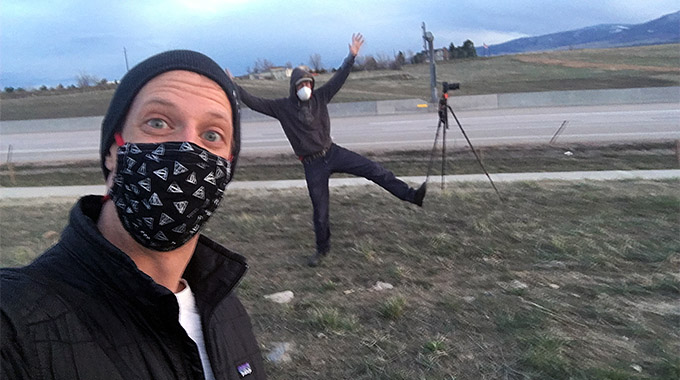 by Daniel Zietlow1,2,3 and Ryan Vachon1,2,4
1CSTPR Research Affiliate
2Provare Media
3National Center for Atmospheric Research
4Earth Initiatives
Photo above: Filming: social distancing style!
I was in a car traveling south on I-25 when I got a message from my director. We had just finished taking down the National Center for Atmospheric Research (NCAR) Traveling Climate Exhibit which had been on display at Colorado State University. My director called to say it was probably a good idea to swing by the office and get anything I may need to work-from-home for an indefinite amount of time.
Arriving 30 minutes later, the office already felt bare and deserted. The overcast skies and look-like-rain atmosphere certainly added to the feeling. Only a couple of my co-workers were there. We hovered six feet apart from each other, making small talk and debating what we would need at home. I felt a buzz or strange energy. I played it safe and packed everything: iMac, camera gear, papers. Then I grabbed a bottle of cleaning wipes (we had quite a few just sitting around the office) for good measure, made a weak joke about seeing everyone soon, and headed out. The dominoes fell a few days later. The COVID-19 pandemic, which had thus far been a distant threat, was finally spreading fast in our own backyard. Office closures, suspension of in-person education, restaurant shutdowns. It was one of those few moments in life when you just innately knew you are living through history—such a momentous event that our world, as we knew it, was going to change.
Quarantine has been a time warp. The measures put in place to slow the spread of COVID-19, and protect our health workers and most vulnerable populations, have made the hours move slow. Strangely, the days and weeks have moved fast. While quarantine can feel like a drag at times, we find it important to remember that many of us are the lucky ones. In our circle of friends and family, lots of us have not been deemed essential employees, required to continue showing up at work every day. We have a safe home in which to shelter-in-place, where access to clean water and food is easy. There's internet access to continue working from home. But not everyone has these things. As we heard someone say, "we're all in the same storm, but we're not all in the same boat."
This scenario, same-storm-different-boats, can reveal inequities, hope, raw emotions, and chinks in the armor of nations, cultures, communities, and families. Like the spring plants popping out of lots of our gardens right now, limbs tender and fragile, we stretch and strain for lessons—important lessons on equity and sustainable futures.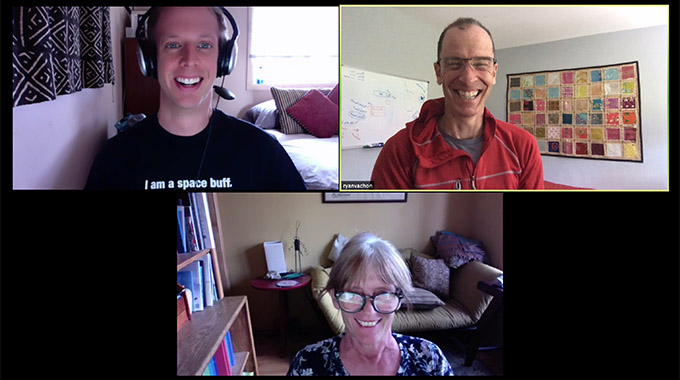 Photo: Production meetings: safely at home, yet still heaps of fun.
In partnership with Jenn Paul Glaser (Scribe Arts), we are producing a documentary that shares people's individual stories of the COVID-19 pandemic. Its title? Tomorrow. Tomorrow features the humans behind these experiences and celebrates the spirit of resilience. What started with a couple of interviews from friends has blossomed into stories from around the planet, like a health worker in Florida, a professional athlete from northern Italy, and English language teacher in Japan. In the next couple of weeks, we'll be honored to hear stories from India, Australia and so many more! Even breaking practices of the past, our film intern works from home—in South Korea.
As we move to rebuild for tomorrow's more resilient society (after the COVID-19 pandemic), we will be navigating complex terrain. Yet we hope that at the roots of these complexities will be the awareness of our values and strengths that are awakened today.
We welcome participation. Learn more about the Tomorrow documentary on our Provare Media website: www.ProvareMedia.com/tomorrow.