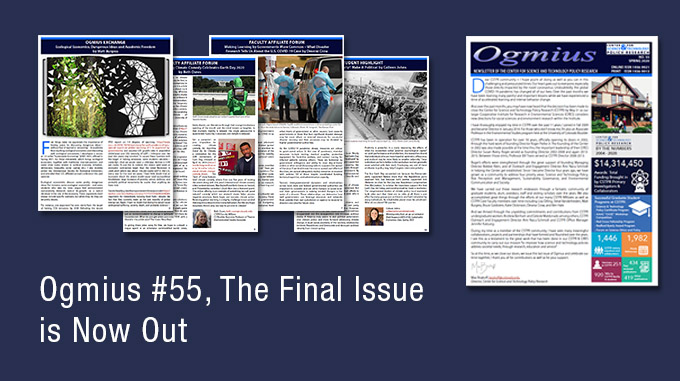 Issue #55, Spring 2020
Dear CSTPR community,
I hope you're all doing as well as you can in this challenging and pressurized times. Our heart goes out to everyone, especially those directly impacted by the novel coronavirus. Undoubtedly, the global COVID-19 pandemic has changed all of our lives. Over the past months we have been learning many painful and important lessons while we have experienced a time of accelerated learning and intense behavior change.
Also over the past months, you may have now heard that the decision has been made to close the Center for Science and Technology Policy Research (CSTPR) by May 31 as our larger Cooperative Institute for Research in Environmental Sciences (CIRES) considers new directions for social sciences and environment research within the Institute.
I have thoroughly enjoyed my time in CSTPR over the past 11 years. I joined in Fall 2009 and became Director in January 2016. For those who don't know me, I'm also an Associate Professor in the Environmental Studies program here at the University of Colorado Boulder.
CSTPR has been in operation for over 18 years, officially opening its doors in 2002, through the hard work of founding Director Roger Pielke Jr. The founding of the Center in 2002 was also made possible at the time thru the important leadership of then CIRES Director Susan Avery. Roger served as founding Director 2002-2008 and again 2013-2015. Between those stints, Professor Bill Travis served as CSTPR Director 2008-2013. Continue Reading …