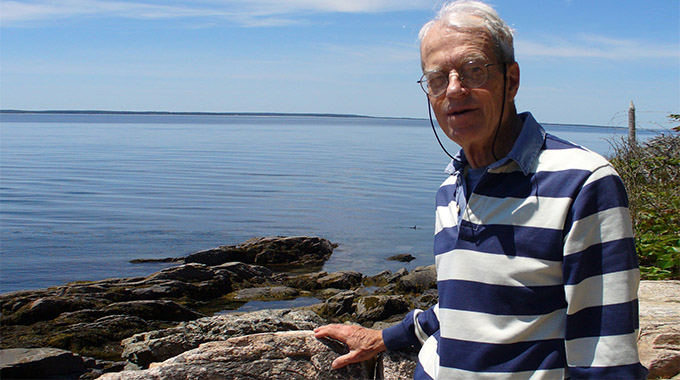 by Alison Gilchrist, CSTPR Science Writer
I interviewed Carol Byerly on the fourth anniversary of the death of Rad Byerly, her late husband, and the mood was solemn. But as we were sitting down to talk about Rad's contribution to science policy, and his legacy both for the Center of Science and Technology Policy (CSTPR) as well as the nation, there was an equal sense of celebration and honor. A candle was burning behind the table to commemorate Rad, and for an hour Carol and I talked quietly about his life, writing, and values.
After completing a PhD and holding a postdoctoral position in physics, Rad Byerly had a long career in politics guided by a simple idea.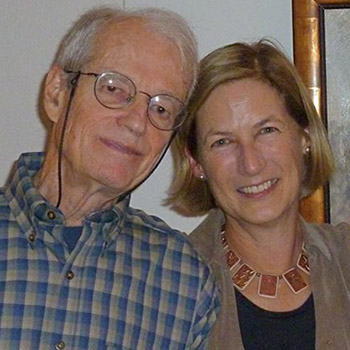 "Rad believed that science should serve society," said Carol Byerly. "And scientists have an obligation."
This conviction that scientists should have a commitment to the serving of society first, before the serving of personal or professional interests, gave Rad a purpose and drive that guaranteed his legacy as a tough, scrupulous, and principled advisor.
"Rad was a philosopher king, and a great critic," said Daniel Sarewitz, a professor of science and society at Arizona State University, who worked with Rad in the US House of Representatives. Sarewitz went on to tell the story of writing a speech for Science Committee Chairman George Brown Jr. The initial feedback he received from another committee member was that the speech was "too negative". Rad, on the other hand, said it "wasn't challenging enough."
"Rad believed that the scientific community needed to be knocked around the head a bit," laughed Sarewitz. "He thought it needed to be woken up and held accountable."
Rad believed that often, money was being thrown at scientists without clear guidelines about reporting and accountability to the public good. He thought that at the intersection of science and politics lay the truly interesting work of guidance: a two-way street between scientists and politicians that would ultimately improve the work of both. At the beginning of one of his books on science policy is a quote from the Bible: "For lack of guidance a nation falls, but victory is won through many advisers (Proverbs 11:14)." At the beginning of another, a similar quote: "Where there is no vision, the people perish: but he that keepeth the law, happy is he (Proverbs 29:18)." Together, these profoundly illustrate Rad's ideals: that science for the public good is best conducted with a guiding hand from government.
In 2017, in recognition of Rad's contributions to and impact on the CSTPR community, CSTPR established the Radford Byerly, Jr. Award in Science and Technology Policy. Each year, a CU Boulder graduate student who has proposed a significant contribution to science and technology policy through his or her work is given this award.
The 2020 recipient of the Byerly award was Diana Dorman, a Ph.D. student in the Environmental Studies Program at the University of Colorado Boulder. Dorman studies issues of energy access in the developing world, specifically how energy is supplied reliably and affordably and how those systems are affected by climate change.
When I asked how she was feeling about diving into the policy issues of her dissertation work, Diana Dorman said "I'm comfortable with it—I've had quite a bit of policy experience in my career so far. This is just at an international level instead of state level."
I asked if writing the proposal or winning the award had changed anything about her research approach, but Diana said that policy was always an important component of the project.
"It's always nice to be acknowledged or recognized for the work you're doing," said Diana. "I wouldn't say anything about how I think about my work has changed, but it's more validation that that connection is valued by others and that it has real world application."
As a recipient of the award, Diana Dorman was asked to present her thesis work at a lunchtime seminar. Normally it would have been in person, but under these extraordinary circumstances she instead presented over a Zoom call. Despite this setback, attendance was impressive with approximately 50 people in the audience. Diana expressed disappointment that she was not able to meet Carol Byerly in person, but said that it was still an honor to present her work.
Rad Byerly would have appreciated scientists like Diana Dorman, who sit at the intersection of science and policy. Byerly's commitment to science as a service to society is partly responsible for the legacy of CSTPR, and is embodied by the Byerly Award. As Sarewitz said about the award, "It's helping keep Rad's memory alive."

This is Alison Gilchrist's final Prometheus blog post due to the closure of CSTPR on May 31, 2020. Alison has been an intern and writing wonderful commentaries for our Center since 2016. We at CSTPR would like to give Alison our heartfelt thanks for her dedication and thoughtful work she has provided for the Center. Alison's commentaries for CSTPR are available to read through here.