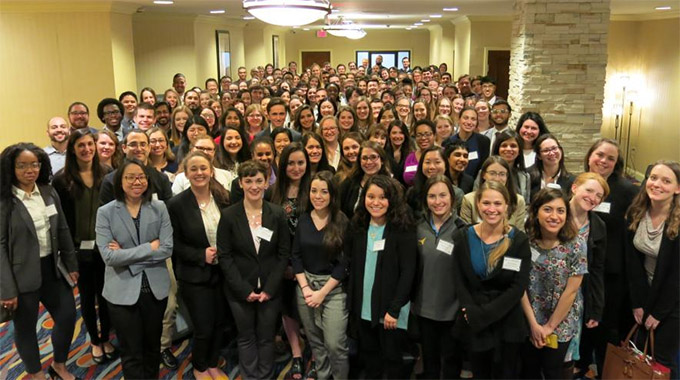 by Spencer Zeigler, CSTPR Science Writer
Each year, the CIRES Center for Science and Technology Policy Research, with support from the CU Graduate School and the Center for STEM Learning, hosts a competition to send a small group of CU Boulder upper-class undergraduate or graduate students to the annual AAAS "Catalyzing Advocacy in Science and Engineering" workshop, which is hosted in Washington, DC each Spring.
Aligning with the mission of CSTPR, the competition encourages CU Boulder students in STEM fields who have a strong interest in the role of science in policymaking to participate. This passion can take many forms—involvement on the federal policy-making processes or as researchers who have a strong voice for making their science the basis of effective policy. This year, Shirley Huang (Ph.D. candidate in the Department of Speech Language, and Hearing Science), Marielle Pellegrino (fourth year Ph.D. student in Aerospace Engineering), and Tasha Snow (fifth year Ph.D. candidate in the Geography Department) were selected from a strong pool of candidates to represent CU Boulder at the March 2020 workshop. Their passion for communicating science through podcasts focused on science-policy (Sciencing with a Purpose), writing blogs about astronomy and engineering (missareospace.com), and as a healthcare provider makes them exactly who the CASE workshop targets to become the next leaders in science policy.
The CASE workshop is a three-and-a-half-day program where participants get the unique opportunity to learn about the structure and organization of Congress, the federal budget and appropriations processes, and tools for effective science communication and civic engagement. The participants also experience the policy creation process during interactive seminars and, on the last day, get to conduct a meeting with their elected Members of Congress and their staff.
But this is not your high school's civics class all over again—the AAAS CASE workshop has a strong focus on effective science communication which is desperately needed from researchers so that the reality of scientific principles creates policy which affects those who need it the most (@turmo_aiko, Twitter, 3/26/19). In addition to science communication, the 2019 attendees were spoken to by Dr. Shirley Malcolm on equity in STEM, where she said, "only institutional transformation will get us where we need to be" (@holberman, Twitter, 3/29/19). These special opportunities have woven together some of the important aspects of CSTPR's mission: federal policy making, governmental structure and funding, science communication, and the inclusivity and equity necessary for strong research and policy.
The AAAS CASE workshop has been going on since 2013, and although this year's meeting was cancelled due to COVID-19, we congratulate our 2020 winners and know their passion for the intersection of science and policy will lead to a brilliant future.

This is Spencer Zeigler's final Prometheus blog post due to the closure of CSTPR on May 31, 2020. We at CSTPR would like to give Spencer our heartfelt thanks for her thoughtful work she has provided for the Center. Spencer's commentaries for CSTPR are available to read through here.