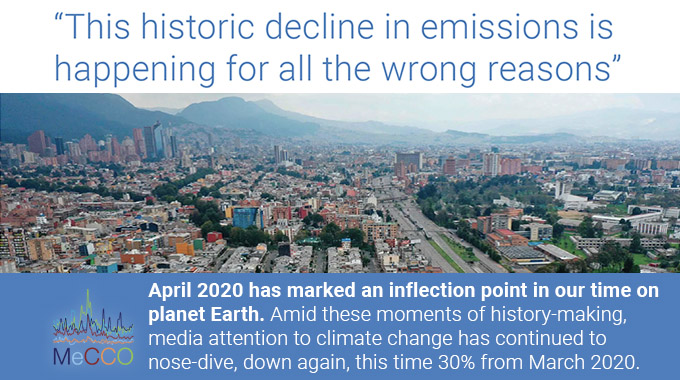 Media and Climate Change Observatory (MeCCO)
April 2020 Summary
April 2020 has marked an inflection point in our time on planet Earth. Amid these moments of history-making, media attention to climate change and global warming at the global level has continued to nose-dive, down again, this time 30% from March 2020 coverage. The decreases in media coverage of climate change in April continue a decline from February 2020 coverage, and an overall plummet of 59% from the January 2020. Furthermore, compared to a year earlier (April 2019), the number of news articles and segments about climate change and global warming is 40% lower. Regionally, climate change news stories in April decreased most in Africa (down 50%), followed by Oceania and Asia (both regions down 36%), then Europe and the Middle East (both down 32%) and Latin America (down 18%), yet North American coverage overall was up 7% from March 2020 (more below).
Figure 1 shows trends in newspaper media coverage at the global scale – organized into seven geographical regions around the world – from January 2004 through April 2020.
On print coverage at the country level, New Zealand newspaper attention to climate change plunged most dramatically (down 53%) from March 2020. This was followed by significant dips in print coverage in Germany (plummeting 45%), Russia (sliding 43%), Japan (slumping 40%), Australia (slipping 34%), the United Kingdom (UK) (tumbling 33%), Norway (dropping 28%), Spain (falling 24%), Sweden (sagging 23%) and Canada (descending 21%).
However, United States (US) newspaper coverage bucked all these trends, with a 29% increase in April 2020 compared to March 2020, and 16% higher than a year earlier (April 2019). Keeping this in context, these numbers were still down 22% from January 2020 and down 6% from February 2020 coverage of climate change. Connections between 'coronavirus', 'Trump' and 'climate change' drove significant coverage, where 'Trump' was explicitly mentioned on average 7.5 times and 'coronavirus' or 'COVID' were 7.3 times on average in each US newspaper article on climate change (see Figure 2). Greater general attention paid to climate change and public health, as well as coverage of the US-derived 'Earth Day' events and a renewed 'Covering Climate Now' campaign were also seen to primarily drive this increase in April. Yet, attention paid to coronavirus and Trump without mention of climate change are considered to primarily drive this continued overall decrease in coverage from the January and February of this year.
As such, in the US we have detected a re-emergence (detected in previous months and years) of a significant amount of news from US outlets on climate change or global warming associated with Donald J. Trump. We at MeCCO have referred to this as a 'Trump Dump', where media attention that would have focused on other climate-related events and issues instead was placed on Trump-related actions, leaving many other stories untold. However, in this case it may be that without the news hook of President Trump – in the face of a finite news hole filled with stories of COVID and coronavirus – even more climate change news stories in the US would have gone untold like trends around the rest of the world.
Yet, an increase in media representations of climate change was limited to print coverage. US television segments on climate change crashed in April 2020, down 45% from the previous month, and down 69% from a year earlier (April 2019). With radio, US National Public Radio coverage of climate change fell 59% from the previous month and 72.5% from April 2019.
Moving past the quantity of coverage and digging into the content, media accounts in April drew on cultural themes, interlinked with political, economic, scientific and ecological/meteorological themes (described below). In early April, media accounts of dramatically reduced airline travel – and consequently reduced greenhouse gas emissions – dotted the larger media landscape. Within this coverage, attention was also paid to a precipitous drop in the demand for jet fuel (the largest drop in the last 30 years). For example, Guardian journalist Oliver Milman reported, "The coronavirus outbreak has provoked a string of unsettling sights, such as the sudden widespread use of masks, shuttered businesses and deserted streets. Another unusual phenomenon is also playing out in the skies – near-empty airplanes flying through the air…. Widespread travel restrictions around the world have slashed demand for air travel, with more than eight in 10 flights canceled. But there is a disparity in the US – while the Transportation Security Administration (TSA) has reported a 96% slump in passenger volume, to a level not seen since 1954, this hasn't been matched by the number of flights being scrapped. A spokesman for United said it was "still somewhat rare" for a single passenger to be on a flight and said that the company had made investments in more sustainable fuel to lower its carbon footprint. The commitment of airlines in general to addressing the climate crisis has been questioned during the coronavirus shutdown, however. Airlines are lobbying to rewrite the rules of a global agreement designed to tackle aviation emissions, with the coronavirus outbreak expected to make its targets tougher to meet. Campaigners accused airlines of attempting to "dodge their obligations", but the industry said it was "a matter of survival"."
Earth Day 2020 – the 50th anniversary of the first Earth Day in 1970 – garnered media coverage with links to climate change and global warming. For example, CBS News journalist Sophie Lewis reported, "an ongoing 3-day live stream from 9 a.m. to 9 p.m. on April 22, 23 and 24 across streaming platforms. The stream [was] hosted by The U.S. Climate Strike Coalition and Stop The Money Pipeline Coalition, which are made up of over 500 environmental organizations. Dozens of celebrities, politicians, scientists, journalists and activists [were] participating, including Al Gore, Amber Tamblyn, Chelsea Handler, Jameela Jamil, Jane Fonda, Joaquin Phoenix, Secretary John Kerry, Mark Ruffalo, Mayor Lori Lightfoot, Representatives Alexandria Ocasio-Cortez and Rashida Tlaib".
Stories also circulated in April about how younger people seem to be capably pivoting to online environments as they continue to share their concerns about climate change. For example, Associated Press journalists Martha Irvine and Christina Larson penned a piece called 'Young climate activists slowed by pandemic, but not defeated'. They wrote, "Unable to gather en masse as they'd planned this Earth Day, these activists are planning livestreams and webinars to keep the issue of climate front and center on the world stage and in the U.S. presidential race".
Further adding to re-emergent cultural themes in April media coverage, the 'Covering Climate Now' project was rejuvenated around Earth Day (or more accurately Earth Week) virtual activities around the world. More than 400 outlets around planet Earth took part. For example, Guardian staff noted, "Even as the coronavirus pandemic terrorizes the world, there's another global emergency the media can't afford to stop covering. Fifty years ago this week, the environmental movement staged the first Earth Day demonstration to call attention to environmental degradation and demand reform. In the half century since, climate change has emerged as an existential global threat. But there are still reasons to be hopeful… the Guardian is joining forces with hundreds of newsrooms around the world to focus attention on creative solutions to the climate emergency, from electric cars to fighting plastic waste to using psychedelic drugs… The Guardian is the lead partner in Covering Climate Now, an initiative founded last year by Columbia Journalism Review and the Nation to address the urgent need for stronger climate coverage. More than 400 newsrooms from around the world – with a combined audience nearing 2 billion people – have signed on". Read more …