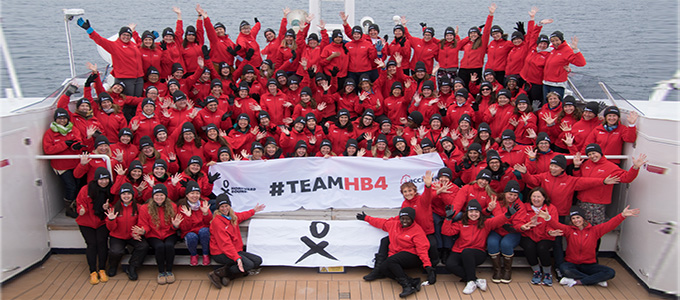 by Cassandra Brooks and Justine Shaw
Icy wind from the Antarctic continent stings our faces as we crouch in the zodiacs straining to hear the crackling of the ice. Water rises and falls around us as if it's breathing. Small pieces of ice crackle while large bergs heave and splash. Our heads turn as we hear the exhale of a minke whale, sighing in a way we can all relate to. Penguins splash and porpoise are all around us. Here we are – more than 100 women in STEMM (science, technology, engineering, math and medicine) who have gathered at the bottom of the Earth. Our goal, as part of the Homeward Bound Project is to change the current approach to leadership, all of us committed to leadership for global sustainability. The awe-inspiring environment of Antarctica – the last great wilderness left on the planet – has united, awakened and inspired us.
We celebrate that 60 years ago this week this commons was set aside for the sake of peace and science when the Antarctic Treaty was signed. Originally signed by 12 countries in 1959, the Antarctic Treaty now has 54 countries listed as parties, with 29 of them having a vote on how Antarctic is governed. But in today's world, the Treaty is strained and not equipped to manage for a changing climate. As we witness the ecosystem strain all around us due to the threat of climate change, this collective group of women will return home inspired and skilled to be able to lead the way for change.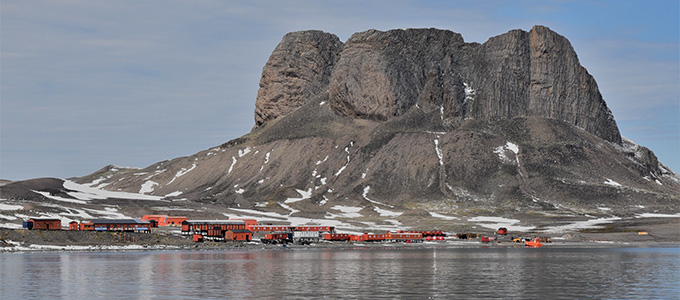 Every woman on the ship has been awed by Antarctica: its beauty, fragility, scale and wildlife. Antarctica has been more than a backdrop to the Homeward Bound initiative; it is a critical component of the program. This icy continent shows them climate change first-hand as they see glaciers that have retreated and learn about shifting penguin populations. Antarctica, which regulates the Earth's climate and global ocean circulation, has taught them about the connectedness of the entire globe and their potential place in it. Experiencing the extremes of the Antarctic can and will inspire them to go home and lead in their STEMM fields towards a more sustainable future.
As the leaders of this year's on-board Antarctic science stream, we've been granted the opportunity to teach alongside Antarctica. As part of the program we've explored what it means in this day and age for a continent to be dedicated to peace and science. We've described how science feeds into decision making for Antarctic and Southern Ocean conservation. Science is the touchstone of Antarctic diplomacy: it's a key reason countries maintain a presence in Antarctica. National and tourist operators (those that are International Association for Antarctic Tour Operators members) abide by agreed procedures and protocols of the Antarctic Treaty System and Commission Conservation of Antarctic Marine Living Resources which are all informed by science. We taught them about this amazing environment – including the flora and fauna that live here and about the current and future impacts of climate change.
Being scientists at the forefront of Antarctic conservation, it's been inspiring for us to also learn about the work of our Team HB4 members. For example, a trauma surgeon leading and mentoring young doctors, a scientist working around the world to mitigate dengue fever, an engineer responsible for Heathrow airport infrastructure, a conservation scientist working with Masaai farmers to conserve lions, and women working on sustainable agriculture, aquaculture and the ethics of genetic engineering. These women will disembark the ship, skilled in leadership, strategy, visibility and science, and deeply reflective about their place in the world and how they can collectively lead for the greater good.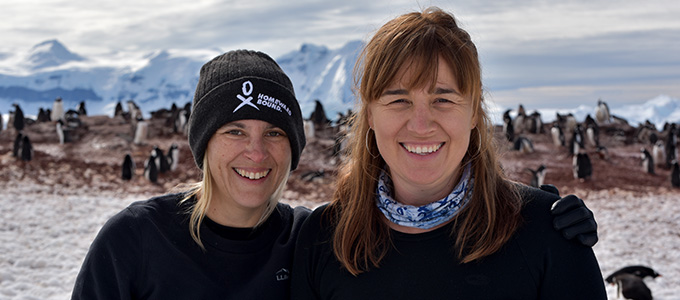 Dr. Justine Shaw with the Centre for Biodiversity & Conservation Science at the University of Queensland, Australia and Dr. Cassandra Brooks an Assistant Professor with Environmental Studies at the University of Colorado Boulder led the Science stream for the Homeward Bound Project, a global women's leadership initiative. This fourth Homeward Bound expedition included 111 women, from 33 countries, ages spanning 23-70 from a wide array of science fields.