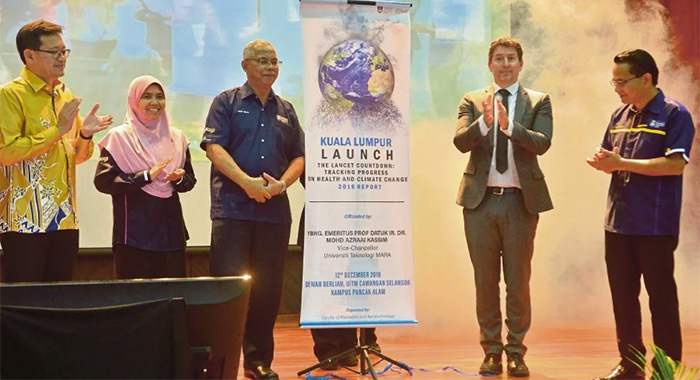 New Straits Times
by Rayyan Rafidi
Universiti Teknologi Mara (UiTM) recently marked a significant milestone after being named as one of the 35 partner institutions listed in the "Lancet Countdown: Tracking Progress on Health and Climate Change 2019", a report published annually in The Lancet.
It joined the ranks of leading academic institutions and United Nations agencies, namely University College London and the World Health Organisation.
Each year, the report provides an assessment on the health effects of climate change, developments in the implementation of the 2016 Paris Agreement, and the health implications of these actions.
It draws on the expertise of climate scientists, ecologists, mathematicians, economists, social and political scientists and doctors.
The Lancet is one of the world's most prestigious general medical journal with an impact factor of 53.102. This year's report featured UiTM's Faculty of Plantation and Agrotechnology senior lecturer Dr Meisam Tabatabaei Pozveh as a lead collaborator in biofuel research.
UiTM was given the honour to launch this year's report. Held at UiTM Puncak Alam on Dec 12, the event comprised a series of climate change talks and a health exhibition.
In his speech via Skype, Lancet Countdown executive director Dr Nick Watts said the report served as a global monitoring system on the links between climate change and health.
"For far too long, climate change is seen as a phenomenon that affects only the environment. Understanding it and re-imagining it as a public health issue is important.
"Climate change actually looks like child malnutrition or the exacerbation of asthma. When we view climate change not as a tangible concept, but as a threat to human health, then we start to understand that no country is immune. Low-income countries are bearing the brunt of the impacts," said Dr Watts.
University of Colorado Boulder's Centre for Science and Technology Policy Research director Associate Professor Dr Maxwell Boykoff then took the stage to discuss the report's key messages and highlights.
"First, the life of every child born today will be profoundly affected by climate change. Without accelerated interventions, it will define their health throughout their lives.
"The second key message urges us to limit the global average temperature rise to well below 2˚C above pre-industrial levels, which is the central objective of the Paris Agreement."
An unprecedented challenge demanded an unprecedented response, he continued.
"The scale of our response does not commensurate with the immense scale of challenges. The report hopes to address that gap by wisely confronting climate change in the 21st century." Read more …