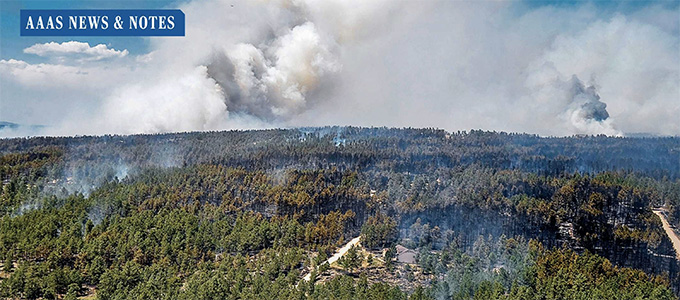 AAAS Science Magazine
by Anne Q. Hoy
Scientists seek to inform Missouri and Colorado policy-makers and climate solutions for communities
The American Association for the Advancement of Science has partnered with pilot initiatives in Missouri and Colorado to integrate scientists with local and state policy-makers, community stakeholders, and the public to leverage scientific evidence and inform efforts to address varied local impacts of climate change.
The AAAS Local Science Engagement Network seeks to forge alliances among diverse and multidisciplinary groups of scientists, civic leaders, academic institutions, decision-makers, and representatives of scientific societies to advance regional responses to the flooding of agricultural lands, impacts of urban heat islands and droughts in Missouri, and premature snow melts, droughts, and suburb-encroaching wildfires in Colorado.
"Instead of focusing on global theoretical concepts of climate change or impacts that are happening in far-flung communities in this country or internationally, we want local scientists to talk about how they can inform local decisions that improve the lives of people sitting in the room," said Dan Barry, director of AAAS's Local Science Engagement Network.
More than a year in the making, the program was initiated by leaders in the scientific community and AAAS members seeking to establish a nationwide plan for supporting networks of scientists to engage with policy-makers and contribute solutions to the range of challenges facing local and state communities.
The climate work of the Local Science Engagement Network is supported by the Grantham Foundation for the Protection of the Environment, Benjamin and Ruth Hammett, Reinier and Nancy Beeuwkes, Rush Holt and Margaret Lancefield, the Atkinson Family Foundation, Gary and Denise David, the estate of Abraham Ringel, and other generous donors.
Going forward, the program aims to set up networks in three additional states, Barry said, to assist communities and state policymakers in implementing effective solutions to challenges raised by climate change with the help of fact-based and impartial scientific knowledge. The program's current theme may grow into exploring other climate-related impacts, including rural poverty economy and public health concerns, he added.
The pilot network reflects a strategy long recognized by AAAS in expanding scientific engagement with the public, through the articulation of common goals, activities, and structures. Participants in Missouri and Colorado have pledged to take part in civic engagement that elevates the capacity of science through a host of public outreach activities and events.
Communities of scientists also are being assembled by program leaders in each state to serve as an advisory council made up of topical scientific experts willing to participate in policy discussions; share fact-based research drawn from local, regional, and national analyses; and author topical reports. The two pilot programs will collect scientific analyses and reports in electronic libraries to make such materials more accessible to stakeholders and the public.
"We're hoping that positive solutions, real solutions will take root and that we'll be able to start to engineer a little bit of social change where the value of science is reasserted," said Barry. "Part of the problem we seek to address is that science has been intentionally and unintentionally marginalized as a tool for decision-making in this country."
In Missouri and Colorado, participating scientists will be offered communications training through AAAS Communicating Science workshops that coach participants on fundamental communications techniques and on how best to engage with local and state policy-makers. The workshops, developed by the AAAS Center for Public Engagement with Science and Technology, are tailored to help scientists effectively share information with the public.
Local leaders now being selected in the two states offer a wealth of scientific experience. In Missouri, Rachel Owen, a Ph.D. soil scientist, will become program director of the Missouri Local Science Engagement Network when it launches in January.
The framework for the Missouri Local Science Engagement Network calls on Owen to ensure that the network provides science communications, civic engagement, and effective advocacy from AAAS and other partners and holds regular networking events to facilitate conversations among scientists, policy-makers, and local leaders.
The network plan in Missouri will enable the program to identify the diverse needs of different demographic, economic, and cultural regions in a state that spans from the sparsely populated Ozarks to more populated urban and suburban communities. The plan pledges to engage local stakeholders to ensure that evidence-based perspectives woven into climate solutions apply to diverse communities.
Owen already has received confirmations from seven scientists to serve on the Missouri Local Science Engagement Network's advisory council. So far, the council has begun meeting to discuss everything from policy opportunities to communications and advocacy training. "We're going to try to make it as easy as possible for them to bring science to the conversation," she said.
The initial council members represent a varied group, including university faculty, representatives of the nonprofit The Nature Conservancy, and climate scientists, some of whom are active in Missouri's Climate Action Coalition, a group of elected officials and community leaders throughout Kansas City who work with state policy-makers.
The council also includes Barbara Schaal, a former AAAS president, an evolutionary biologist, and dean and professor at Washington University in St. Louis. Schaal, like many AAAS leaders, has long advocated the need for the science community to engage with policy-makers and the public about the value of science.
In Colorado, Maxwell Boykoff, director of the Center for Science and Technology Policy Research at the University of Colorado Boulder, and Matthew Druckenmiller, a research scientist at the National Snow and Ice Data Center in the Cooperative Institute for Research in Environmental Sciences, also are at work developing the Colorado Local Science Engagement Network set to launch in January.
The Colorado network will produce an annual report to be made up of focused and concise briefing papers on timely policy topics and explore noteworthy scientific advances. The briefs will be authored by a multidisciplinary group of Colorado scientists. Essays written by decision-makers, practitioners, and stakeholders also will be included to provide a mix of perspectives.
The report is intended to ensure that the latest scientific research is made publicly available to inform climate policy decisions facing Colorado lawmakers and to build a diverse network of scientists throughout the state and give communities opportunities to integrate science into policy discussions and decision-making processes.
Boykoff said that community teams will be developed to help frame strategies to more effectively fold science into local policy debates and response proposals, particularly as they relate to addressing climate impacts across the state.
Already, plans are in place to contribute to policy conversations stemming from a climate action plan Boulder adopted 3 years ago. The city plan calls for 80% reductions in greenhouse gas emissions by 2050, 80% reductions of emissions generated by city government operations, and a transformation to 100% renewable electricity by 2030. The plan has led Boulder to adopt a Climate Mobilization Action Plan that places "equity and resilience" at the center of its implementation, Boykoff noted.
"AAAS and the Local Science Engagement Network is going to catalyze all kinds of important connections that need to be made because Boulder is very different than the communities in the state's Western Slope," Boykoff said. "To make those links, we really want to reach beyond the leading actors and engage with folks that might otherwise not be considering too carefully the various science-related challenges that actually impact their everyday lives." Read more …