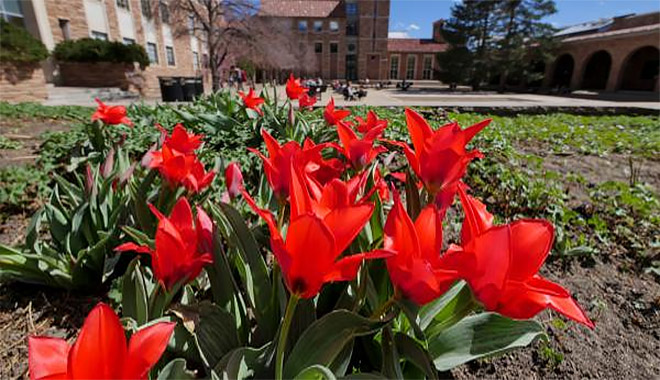 CU Boulder will host the regional version of a national effort to "make climate a class."
Associate Professors Max Boykoff (Environmental Studies) and Phaedra Pezzullo (Communication) along with undergraduate student Andrew Benham (Engineering) are hosting the webinar "Power Dialog: Climate Solutions for Colorado"—mainly targeted to college and high school educators—on Tuesday, April 7. The aim is to foster discussions focused on decarbonization, energy and climate change in Colorado over the next decade.
The event in Boulder is taking place simultaneously with similar online events in every U.S. state and also in Puerto Rico, as well as in Washington, D.C.
Colorado Gov. Jared Polis will first offer his comments on these issues in a prerecorded message specific for the event. Then, Boykoff will moderate a panel called "A Just Transition in Colorado and Beyond."
Panelists include: former Gov. Bill Ritter, founder of the Center for the New Energy Economy at Colorado State University and author of Powering Forward—What Everyone Should Know About America's Energy Revolution; Phaedra Pezzullo, founding co-director of the Just Transition Collaborative and co-director of Inside the Greenhouse; and Jorge Figueroa, a Water Education Colorado board member who runs El Laboratorio to promote agricultural and food security in Puerto Rico after Hurricane Maria.
Teachers of all disciplines are encouraged to use this webinar to "make climate a class," and help refocus the nation and the world on the challenge that still lies beyond COVID-19: climate change. The recorded webinar, plus subject-area online resources, will be available through May.
"The success of these efforts in Colorado over the coming decade will depend on each of us recognizing that our individual perspectives and expertise have great value when confronting a set of collective-action challenges like energy, decarbonization and climate change," said Boykoff.
This Colorado discussion is part of a national effort of 55 university-hosted webinars, led by Eban Goodstein from Bard College in New York, with support from David Blockstein from the Association of Environmental Studies and Sciences. For more information, visit solveclimateby2030.org.
"We are living through a unique moment in the history of this country where the role of states in safeguarding the wellbeing of its peoples is highlighted like never before," Boykoff said. "We are seeing in real time the criticality of cooperation, civic-mindedness and trust across our communities and institutions. Going forward, we must continue to invest in these values for the benefit of Colorado."
This event is co-sponsored by the Colorado Energy Office, the Conference on World Affairs, the Center for Science and Technology Policy Research, the Boulder Faculty Climate Science & Education Committee, the Media and Climate Change Observatory, and Inside the Greenhouse at CU Boulder.
Registration is required. Those who RSVP will be emailed the log-on information just before the event to participate.