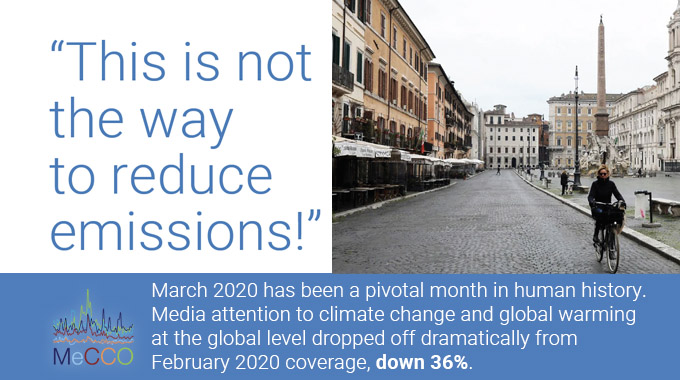 Media and Climate Change Observatory (MeCCO)
March 2020 Summary
March 2020 has been a pivotal month in human history. In terms of media coverage of climate change and global warming, March 2020 has demonstrated the adage of the 'finite news hole' across legacy and traditional media (television, newspapers and radio). Amid a global media focus on coronavirus especially as the month unfolded, media attention to climate change and global warming at the global level dropped off dramatically from February 2020 coverage, down 36%. Amid a backdrop of steadily rising levels of coverage in recent months and years, March 2020 nonetheless dropped 17% from a year earlier (March 2019). Across all regions and countries monitored, coverage in March 2020 was dramatically lower in quantity compared to coverage in March 2019. Regionally, the ongoing stream of stories in this past March decreased most in Oceania (declining 52.5%), Europe (dipping 36%), North America (falling 33%) Latin America (sliding 27%), the Middle East (lowering 24%) and Asia (descending 23%) from the previous month.
Figure 1 shows trends in newspaper media coverage at the global scale – organized into seven geographical regions around the world – from January 2004 through March 2020.
At the country levels, United States (US) newspaper coverage of climate change or global warming tumbled 28% while US television coverage slumped 43%. Meanwhile, the steepest country-level declines in March coverage from February were seen in Australia (down 61%), Norway (down 51%), Spain (down 46%), Canada (down 39%), India (down 36%), the United Kingdom (UK) (down 34%), Sweden (down 33%) and Germany (down 31%).
New in March 2020, we have integrated three new Spanish-language sources:
El Espectador is a newspaper in Colombia, founded in 1887 in Bogotá
Folha de São Paulo (also commonly known as 'Folha') is a Brazilian daily newspaper founded in 1921 in São Paulo. Folha has had the biggest circulation among Brazilian newspapers since 1986
Clarín is the largest tabloid newspaper in Argentina, founded in 1945 in Buenos Aires
In March, political and economic content significantly contributed to media coverage of climate change or global warming. Prominently, in early March – before coronavirus stories began to dominate the media landscape – General Motors made news for its plans to invest heavily in manufacturing and selling new models of electric vehicles over the next years. For example, CNN journalist Peter Valdes-Dapena reported, "In a major challenge to electric car leader Tesla, General Motors announced it has created a new electric vehicle battery that offers up to 400 miles of range and will be cheaper to produce than today's batteries…The announcement was part of a broader presentation on the company's aggressive plans for electric vehicles. "GM is building toward an all-electric future because we believe climate change is real," GM CEO Mary Barra said during a presentation for media and investors. She said the company would be investing more than $3 billion annually in electric vehicle research and development between 2020 and 2025".
In addition, preceding and amid coronavirus-dominated coverage, in March many media organizations reported on decisions by large corporations to both ramp up rhetoric about the importance of addressing climate change, and also to shift financial assets and commitments to confront it.
For example, early in March Swiss bank UBS decided to stop funding oil sands and tar sands projects as well as offshore drilling in the Arctic. Wall Street Journal reporter Dieter Holger noted, "UBS Group AG said… that it would no longer finance new offshore-oil projects in the Arctic, thermal coal mines or oil sands on undeveloped land as banks tighten their restrictions on fossil fuels amid pressure from environmentalists and investors. The Swiss bank declined to provide figures on previous projects it financed, but pointed to how its investments in carbon-related industries are falling. Assets on the bank's $972 billion balance sheet tied to the energy and utilities sectors, excluding renewables, water and nuclear, shrunk more than 40% last year to $1.9 billion, representing 0.8% of the bank's product exposure. It added that it would take a closer look at the environmental impact of liquefied natural gas and ultra-deepwater drilling projects before committing financing. The bank also hit its three-year sustainable-investment goal one year ahead of schedule, as measured by supporting the United Nations Sustainable Development Goals. Core sustainable investments rose to $488 billion last year, more than doubling from 2017 to reach 13.5% of its invested assets". Furthermore, The Associated Press reported, "A multinational investment bank has ended support for offshore drilling in the Arctic amid efforts to tackle climate change, a move that could affect future funding for oil and gas projects in Alaska".
At the end of March, the large European bank Barclay's – the largest funder of fossil fuels in Europe and the sixth-largest funder in the world – proclaimed it would zero out emissions for its investments by mid-century, while harmonizing future investments with terms of Paris Agreement targets. Among stories covering this pledge, journalist Maitane Sardon from The Wall Street Journal reported, "The British bank, which has come under fire from investors for having a weaker climate policy than some of its European rivals, said it would start with the energy and power sectors and provide targets to measure its progress in 2021… Some of the measures the bank will implement will lead to a reduction in the carbon-dioxide intensity of its power and energy portfolios of 30% and 15% respectively by 2025, Barclays Chairman Nigel Higgins said in a letter to shareholders included in the bank's annual report on environmental, social and corporate governance".
In early-to-mid-March, coronavirus (a.k.a. COVID-19) stories relating to climate change and global warming took hold. For example, early stories linking these two critical issues noted decreases in Carbon Dioxide and Nitrogen Dioxide levels (both important greenhouse gases) in hard-hit and quarantined places. Amid these data from the European Space Agency and others, and amid these stories of silver-linings in otherwise very dark clouds, journalist John Schwartz from The New York Times posed the question, "As the nation shifts abruptly into the fight against coronavirus, a question arises: could social isolation help reduce an individual's production of greenhouse gases and end up having unexpected consequences for climate change?" He then walked through four main ways in which coronavirus has impacted climate change: transportation, food choices, home activities and consumption (shopping) habits.
Meanwhile, Washington Post journalists Chris Mooney, John Muyskens, Brady Dennis and Andrew Freedman wrote, "First, it happened in China. Now, Italy. The coronavirus struck hard, and authorities responded with sweeping interventions to keep people from spreading the disease further. As citizens hunkered down at home, businesses and roads suddenly fell empty and silent. One startling result: a decline in air pollution and greenhouse gas emissions. The Washington Post analyzed data from the European Space Agency's Sentinel-5P satellite, which can measure concentrations of greenhouse gases and other pollutants in the lower atmosphere. It shows that between Jan. 1 and March 12, concentrations of nitrogen dioxide, or NO2, fell drastically, especially over hard-hit northern Italy. Nitrogen dioxide is not one of the major greenhouse gases linked to climate change. But it is produced from combustion — by cars, power plants, and other industrial sources. So it serves as a proxy for other emissions that warm the atmosphere. It also is a pollutant that can increase the risk of asthma, inflammation of the lungs and other harmful health conditions… While the ongoing crisis has drastically slowed emissions in China, Italy and potentially elsewhere, that has offered little cause for celebration. "It is, of course, not a good thing," [Dr. Riccardo] Valentini wrote. "This is not the way to reduce emissions!" Read more …