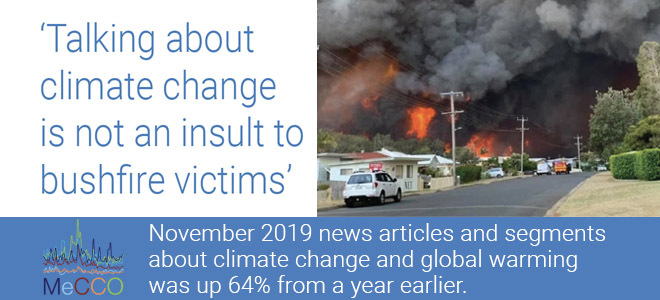 Media and Climate Change Observatory (MeCCO)
November 2019 Summary
October media attention to climate change and global warming went down 8% from record levels of coverage in September 2019. However, it was still up 48% throughout the world from October 2018. While Middle East and North America coverage was up 10% and 7% respectively from the previous month, it was down in all other regions. At the country level, coverage also dropped from high levels in September in all countries we monitor, with the exception of increases in three countries: the United Kingdom (+8%), New Zealand (+5%) and Canada (+49%).
November media attention to climate change and global warming at the global level remained relatively steady from October 2019 coverage. However, across the globe, November 2019 news articles and segments about climate change and global warming was up 64% from a year earlier (November 2018). The ongoing stream of stories also continued for the most part in Europe, where regional coverage was steady, as was national-level coverage in the Germany, UK and Sweden as examples. An exception to this trend was coverage in Spain, where news accounts – some anticipating the United Nations (UN) Madrid-based round of climate talks (COP25) beginning December 2 – increased a bit, up 7% from October 2019.
Focusing further at the country level, on the heels of the previous month's Canadian Federal election (see October 2019 summary for more details), coverage across Canada decreased by a third, though it still remained more than double the quantity of coverage a year previous (November 2018). Similarly, record levels of coverage in New Zealand in October 2019 (see October 2019 summary for more details) were down nearly 24% in November 2019, yet still up 72% from the previous November. In contrast, coverage was up 5% in the United States (US), up 13% in India and up 25% in Japan from the previous month of October.
Figure 1 shows trends in newspaper media coverage at the global scale – organized into seven geographical regions around the world – from January 2004 through November 2019.
In particular, Australian media coverage of climate change was up 19% in November 2019. This was attributed in part to media discussions of early November bushfires and their attribution to climate change, as well as to the connected climate change protests that took place in across the country at the end of the month. This coverage was at its second highest levels in Australia in the last eight years. The only month of higher coverage during that stretch were May 2019 levels, attributed in most part to the May 18 Australian elections where climate change played a big part (see May 2019 summary for more details). Figure 2 shows the number of stories per outlet in November 2019 (The Sydney Morning Herald, Courier Mail & Sunday Mail, The Age, The Australian and The Daily Telegraph & Sunday Telegraph).
More specifically, early in November the Australian government declared a state of emergency for the east coast as wildfires that raged through the state of New South Wales, not far from Sydney. Numerous stories linked these wildfires to climate change. For example, journalists Jacob Miley, Thomas Morgan and Chris Clarke from The Courier Mail quoted Queensland Fire and Emergency Services Commissioner Katarina Carroll who said, "The combination of the climate, the heat, the fire is just absolutely horrendous". Meanwhile, a Sydney Morning Herald Editorial entitled 'Talking about climate change is not an insult to bushfire victims' pointed out "In a week when all Australians are concerned for the lives and property of residents and firefighters in NSW and Queensland who continue to face the threat of catastrophic bushfires, climate change must be part of the discussion. Of course, in the short term, as both Prime Minister Scott Morrison and NSW Premier Gladys Berejiklian said over the weekend, the main focus should be on expressing sympathy for people who are directly affected and planning an emergency response. But scientists agree that climate change has caused a long-term increase in extreme bushfire weather and made the fire season longer in many parts of Australia. So it is something we should talk about. It is not a sign of indifference to the victims of bushfires or political point-scoring to raise the issue of climate change. It is common sense. Without a rational assessment of the causes and trends of bushfires, we will only increase the likelihood of more tragedies in the future. So if politicians want to reinforce their compassion for the victims of bushfires, they should talk about the link to climate change sooner rather than later. The fire season will last for months". And pointing to the human and property damage, journalist David Aaro from Fox News reported, "Wildfires have ripped through Australia's most populated state, claiming three lives, destroying at least 150 homes and forcing more than 1,300 people to flee, according to officials. Over 35 people have been injured, including 16 of the 1,500 firefighters battling fires across New South Wales".
Then, on November 29 there were large demonstrations in over 100 towns and cities across the country that sought to raise these issues of bushfires and climate change in the realm of policy decision-making. Thousands of students participated in events, and media coverage was prominent. There were numerous angles taken by Australian media outlets. For example, ahead of the protest date The Australian focused on the disruptions that the climate demonstrations generated, noting, "Their plans to blockade a major resources conference in Perth have prompted police to deploy security typically reserved for heads of state, but climate activists insist they're committed to a peaceful demonstration. Environmental groups including Extinction Rebellion are promising a significant presence at Perth Convention Centre on Wednesday, where attendees will include the chief executives of BHP, Woodside Energy and Chevron Australia". On the day of the actions, Sydney Morning Herald journalist Konrad Marshall reported on who he called 'the climate strike kids' and their demands. Then, after the event journalist Lydia Lynch from The Age observed, "The owner of a south-east Queensland mountain resort that narrowly escaped a "glowing ribbon" of fire this month has added his voice to a chorus of activists begging the government to declare a climate emergency. Mt Barney Lodge owners Innes and Tracey Larkin watched on as fires ravaged parts of the national park this month … Mr Larkin joined a few hundred people for a "sit-in" protest at Queens Gardens in the CBD on Friday afternoon, as part of a national day of action. Protests were also held outside Liberal Party headquarters in Sydney and Victorian Parliament in Melbourne". Meanwhile, Courier Mail columnist Peggy Noonan conceded that "what climate protesters are fighting for is indisputably something we should all want: a healthier planet". As an example of additional coverage from outside Australia, journalist Calla Wahlquist from The Guardian noted, "A teenager whose family home burned down in the New South Wales bushfires has delivered a message to Scott Morrison at a climate emergency protest outside the Liberal party headquarters, saying: "your thoughts and prayers are not enough". Shiann Broderick, from Nymboida, said government inaction on the climate crisis had "supercharged bushfires". "People are hurting," she said in a statement before the protest on Friday at the party's Sydney headquarters on Friday. "Communities like ours are being devastated. Summer hasn't even begun"". Moreover, Associated Press journalist Frank Jordan noted that these demonstrations were also timed to take place ahead of the United Nations climate talks in Madrid that began on December 2 concurrently in cities around the world. He began the article writing "Protesters in cities across the world staged rallies Friday demanding leaders take tougher action against climate change, days before the latest global conference, which this year takes place in Madrid. The rallies kicked off in Australia, where people affected by recent devastating wildfires joined young environmentalists protesting against the government's pro-coal stance".
In November (much like in October), political and economic connections with climate issues continued to drive a significant portion of overall media coverage of climate change around the world. To illustrate, media attention spiked in early November when the Trump Administration officially filed their paperwork to the UN to initiate the formal process of withdrawing the United States (US) from the Paris Agreement. This set forward a process where the US officially will be removed on November 4, 2020 (one day after the US Presidential election). For example, journalist Connor Finnegan from NBC News reported, "The formal notification comes over two years after President Donald Trump announced he would pull the US out of the agreement, criticizing it as imposing an unfair burden on the US and doing little to halt climate change-causing emissions from other countries – claims that critics say mischaracterize the agreement. The agreement … seeks to limit global temperature increases to less than 2 degrees Celsius, with each country setting its own nonbinding emission targets and reporting on its progress to reduce them". Meanwhile, journalist Rebecca Hersher from US National Public Radio noted, "The Trump administration has formally notified the United Nations that the US is withdrawing from the Paris climate agreement. The withdrawal will be complete this time next year, after a one-year waiting period has elapsed. "We will continue to work with our global partners to enhance resilience to the impacts of climate change and prepare for and respond to natural disasters," Secretary of State Mike Pompeo said in a statement Monday. Nearly 200 countries signed on to the agreement in 2015 and made national pledges to reduce greenhouse gas emissions. Each country set its own goals, and many wealthy countries including the US also agreed to help poorer countries pay for the costs associated with climate change. The US is now the only country to pull out of the pact". Read more …