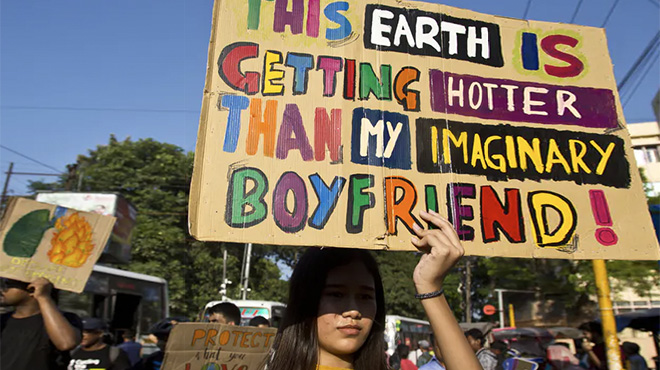 Medical Daily
by Darwin Malicdem
Climate change is a very serious issue. It puts millions of people in different countries across the world at risk of more extreme weather events, food shortages and rising sea levels, among other natural changes.
Advocates have been calling on the government and the public to help address the growing effects of climate change. However, it has been a challenge to encourage officials to make policy changes, like limiting use of fossil fuels, and the public to make lifestyle changes that would protect the environment, especially from pollution.
But people may start noticing climate change if advocate change their approach. Campaigns commonly appear serious, warning people that increasing greenhouse gas emissions are harming the planet.
Such "gloomy and threatening science-centered discussions" may have little effect on the minds of the public. That is why researchers want future campaigns to make people laugh about climate change to get more attention.
People may get the message of campaigns easier through comedy, according to Maxwell Boykoff, associate professor of environmental studies at the University of Colorado Boulder. He explored the importance of humor in fighting climate change in his new book titled "Creative (Climate) Communications."
"Rather than "dumbing down" science for the public, this is a "smartening up" approach that has been shown to bring people together around a highly divisive topic," Boykoff, who is also director of Center for Science and Technology Policy Research at CU Boulder, said in an article posted on The Conversation. "Largely gloomy approaches and interpretations typically stifle audiences rather than inspiring them to take action."
The book highlights how emotional, tactile, visceral and experiential communication could motivate people and "arouse action and engagement." Boykoff cited that such methods have been used by shows like "Saturday Night Live," "Last Week Tonight," "Jimmy Kimmel Live," "Full Frontal" and "The Daily Show" to discuss climate change and engage audience.
Hosts use jokes to increase understanding and engagement. One study showed that "comedy can lower defenses," allowing people to accept ideas and new ways of thinking or acting.
"A comic approach might seem to trivialize climate change, which has life-and-death implications for millions of people, especially the world's poorest and most vulnerable residents," Boykoff added. "But a greater risk would be for people to stop talking about the problem entirely, and miss the chance to reimagine and actively engage in their collective futures."
To utilize humor and help spread awareness of climate change, Boykoff helped establish the Inside the Greenhouse initiative at CU Boulder. The program combines creative fields to form new climate communication strategies.
The university also hosts the "Stand Up for Climate Change" comedy project. It allows professors and students to perform sketch comedy routines at the campus.
According to Boykoff, adding humor to climate change campaigns appeared effective to expand awareness, learning, conversations and inspiration among performers and audiences. Read more …