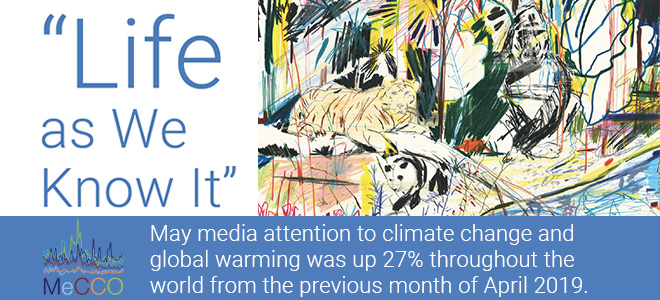 Media and Climate Change Observatory (MeCCO)
May 2019 Summary
May media attention to climate change and global warming was up 27% throughout the world from the previous month of April 2019.
Across international wire services – Associated Press, Agence France Presse, The Canadian Press and United Press International – media attention to climate change went up nearly 20%, while across international radio programming including American Public Media, National Public Radio, British Broadcasting Services, Southwest Radio Africa, Radio Balad and Radio France Internationale – media coverage increased nearly 30%.
While coverage in the Middle East dropped 25% from the previous month, coverage in all other regions increased from April 2019 into May 2019: among them, African coverage doubled, Asian media attention to climate change was up nearly 12%, European coverage increased nearly 22%, Central/South American coverage was up 23%, North America coverage increased almost 8% and coverage on Oceania rose over 86% compared to the previous month.
Figure 1 shows trends in newspaper media coverage at the global scale – organized into seven geographical regions around the world – from January 2004 through May 2019.
In April 2019, we at MeCCO added eight European sources to our ongoing counts: Correio da Manhã (Portugal), La Republica (Italy), Corriere della Sera (Italy), Le Monde(France), Le Figaro (France), El Mundo (Spain), La Vanguardia (Spain) and Expansion(Spain). We combined these to eleven sources that we had been tracking across Europe in the past, providing a first look at trends in 'European Newspaper Coverage of Climate Change or Global Warming' like we have done with our work to track 'Latin American Newspaper Coverage of Climate Change or Global Warming' in the past.
Tracking coverage now through May 2019, we have also now added six sources from Sweden (Dagens Nyheter, Aftonbladet, and Expressen) and Norway (Aftenposten, Dagbladet, and VG) to our European monitoring. These new sources, along with previous monitoring in Europe bolster our work. In June 2019, we in MeCCO now provide European regional tracking of climate change media coverage in 25 source in eight languages (English, French, German, Italian, Portuguese, Spanish, Norwegian and Swedish) (see Figure 2).
Overall, these new sources expand our monitoring to two new countries (Norway, Sweden) and two new languages (Swedish and Norwegian). Therefore, we at MeCCO now track media coverage of climate change or global warming across 96 sources (newspapers, TV and radio) in 43 countries and 9 languages (English, French, German, Italian, Japanese, Portuguese, Spanish, Norwegian and Swedish).
MeCCO now monitors print media representations of climate change at the country-level in eleven nations. In these countries, coverage was up 76% in Australia compared to coverage in the previous month (see below for more). Meanwhile, coverage in Canada and Norway held steady while attention was up in New Zealand (+62%), Germany (+46%), Japan (+36%), Spain (+34%), Sweden (+19%), the United Kingdom (UK) (+16%), India (+13%) and the United States (US) (+12%). In addition, US television media attention to climate change was up just 2% in May 2019 compared to April 2019.
Moving to considerations of content within these searches, Figure 3 shows word frequency data in US newspaper media coverage in May 2019. A waning Trump influence detected in earlier months of 2019 (see previous monthly MeCCO summaries for details) continued. The slow disappearing feature of a 'Trump Dump' (where media attention that would have focused on other climate-related events and issues instead was placed on Trump-related actions, leaving many other stories untold) was noted in May by mentions of 'Trump' on average about two-and-a-half times per article in the US newspaper prestige press comprised of the Los Angeles Times, The New York Times, USA Today, The Wall Street Journal and The Washington Post. US President Trump's influence is still apparent given the presence in media accounts of climate change and the influence of his office, however this frequency is down significantly from about six mentions per article on average a year ago (and approximately 38 mentions per segment on average on ABC, CBS, CNN, Fox News Network, MSNBC, and NBC in May 2018).
That said, Trump casts a long shadow over current nominees for the Democratic US nomination where the candidates (and their stances or perspectives or plans on climate change) were mentioned less frequently in May 2018 (see Figure 4).
In the US, the steadily building US Democratic Presidential primary race generated numerous stories about rhetoric on climate action along with some plans too. For example, US Presidential hopeful and Washington governor Jay Inslee (mentioned second most frequently among the Democratic presidential hopefuls) released a set of plans (he called the 'Evergreen Economy Plan') to spur decarbonization of industry and society, clean energy development and emission-free transportation. Journalist Ken Thomas from The Wall Street Journal noted, "Gov. Jay Inslee proposed Friday that the U.S. should require carbon-neutral power by 2030, laying out a climate plan at the start of his presidential campaign that embraces elements of the Green New Deal, which many Democrats have backed. The Washington state governor, who has made climate change central to his long-shot bid for the White House, said that if elected he would set targets for achieving 100% clean energy across the electrical grid and in new vehicles and buildings". In an article calling his plan 'radical', journalist Emily Holden from The Guardian reported, "Jay Inslee, the governor of Washington state, is introducing a second portion of his climate change plan as most Democratic contenders for president have yet to officially roll out their own big-picture proposals. Inslee's 38-page document is focused on creating jobs. It outlines a $9tn investment over 10 years and seeks to create 8m jobs aimed at decarbonizing the economy. In an earlier plan, he vowed to make the US carbon neutral by 2045. Inslee wants to upgrade buildings, replace water and transit infrastructure, clean up manufacturing and quintuple spending on clean energy and climate research. Many of those efforts would require congressional legislation. The blueprint echoes progressives' Green New Deal, but with far more details and fewer commitments to social programs".
Meanwhile, 2020 presidential candidate Joe Biden's occupation of a 'middle ground' approach on climate action drew much consternation and critique picked up on by media stories. Consequently, Joe Biden was mentioned most frequently among the Democratic presidential hopefuls in US press coverage of climate change in May 2019. For instance, Journalist Katie Glueck from The New York Times explained, "Former Vice President Joseph R. Biden Jr. defended his record on climate change on Monday in the face of criticism from rivals for the 2020 Democratic presidential nomination, and called for a "green revolution" that is "rational" and affordable…liberal activists and candidates like Senator Bernie Sanders of Vermont questioned his boldness on climate. Mr. Biden, echoing the language of revolution used by Mr. Sanders, said Monday that the nation needed 'environmental revolution'" and that "he had, in fact, introduced the first bill addressing climate change in the 1980s". Meanwhile, Fox News correspondent Lukas Mikelionis noted, "Biden's plan, which hasn't yet been released, aims to appeal to both die-hard environmentalists and blue-collar voters who voted for President Trump in 2016. The core of the plan will likely include the U.S. re-joining the Paris Climate Agreement and focusing on technology and regulations to limit emissions from the burning of fossil fuels". Meanwhile, journalist Valerie Volcovici from Reuterswrote that Biden was "carving out a middle ground approach that will likely face heavy resistance from green activists". Read more …