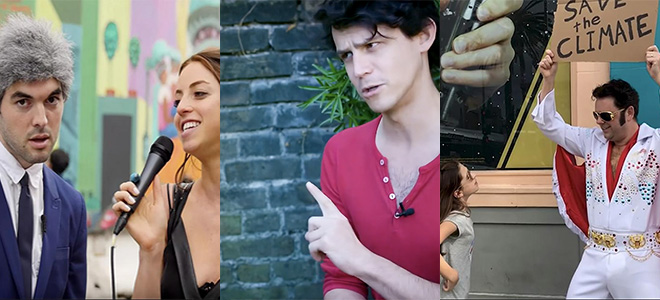 Humor is a tool underutilized, and comedy has the power to effectively connect with people about climate change issues.
Inside the Greenhouse held a competition to harness the powers of climate comedy through compelling, resonant and meaningful videos.
The videos from the 2019 winners will be announced and shown to a live audience at the Stand Up For Climate Change event on April 25.
Here are the 2019 winners:
First Place Winner
Al Gore – Man On The Street
by Rollie Williams & An Inconvenient Talk Show
Second Place Winner
How (not) to talk about Climate Change
by Adam Levy, Geoff Marsh & Adam Corner
Third Place Winner
The Climate Rock (Climate Elvis)
by Josh Willis & Lizze Gordon
Honorable Mentions
An Inconvenient Joke
by David Krantz
Giving Climate Denial the FLICC
by John Cook