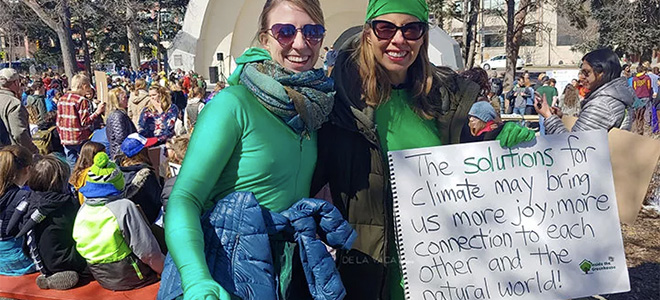 A couple of hundred excited activists and concerned community members assembled at the Boulder Bandshell to take part in the global, youth led, climate change protest: Fridays for Future. The event was organized locally by Earth Guardians, including Marlow Baines, who was interviewed by Yellow Scene prior.
One might expect that in a pro-environmental, liberal leaning, highly educated space like Boulder, Colorado, there would have been a massive turnout to protest governmental inaction — failures at the highest levels — in regards to climate change. Indeed, given that the earth was warned in the 1980's that inaction would lead to irreversible effects by the year 2000, that the UK broadcast Warming Warning in 1981, one of the earliest known publicly televised mentions of climate change, and, finally, given that the recent Intergovernmental Panel on Climate Change reportfrom the United Nations indicates that the continuation of our species is in jeopardy if fundamental, global changes aren't made by 2030, one would think the streets would be full of people.
Boulder County turned out under 200 people. While the crowd was noble, eager, happy, and hopeful, with on site musicians and poster making stations, and plans for a march down Pearl Street and a celebration in the park after, the turnout was not nearly enough. I had expected thousands, given the recent regional activism around climate change and oil and gas concerns. Arguably, while a beautiful day for a protest, after two snow days courtesy of the bomb cyclone, many parents couldn't justify a third day off (nor take a day off themselves). Thanks, Colorado weather. Or, should I say, thanks climate change?
Deep Adaptation, a recent report by Professor Jem Bendell published directly to the web after it was rejected by an academic publishing house, "because I can't wait any longer in exploring how to learn the implications of the social collapse we now face," Bendell said, suggests in stark terms that we will experience the severe effects of climate catastrophe in our current lifetimes, including war, famine, and climate refugees. The report paints a horrific picture of the future of the planet, including the dubious prospect of the continuation of our species.
And still, global inaction continues at the political level and local activism is minimal. 
The Action Network's Colorado Youth Climate Strike: Boulder information page suggested that numerous schools will be participating, including CU Boulder but, in reality, it look like mostly parents with kids and a few autonomous individuals. Thankfully the rest of the world is on the case, including sixteen-year-old Greta Thunbern, who was recently nominated for the Peace Prizefor her effort around climate change. Read more …