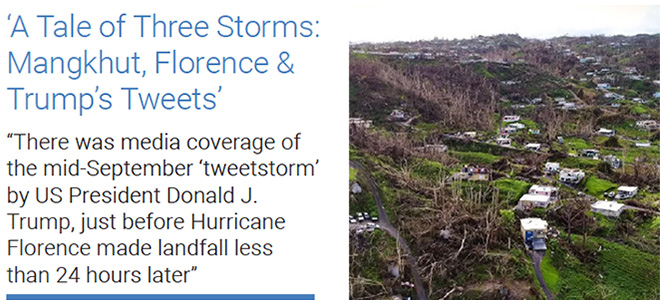 Media and Climate Change Observatory (MeCCO)
September 2018 Summary
September was a busy month for media attention to climate change and global warming. However, coverage across the globe decreased 8.5% from the previous month of August 2018, and was also down slightly (2%) from September last year. An increase was most pronounced in Asia (up 15%) and the Middle East (up 15%) in September.Elsewhere, decreases were detected in North America (down 8%), Oceania (down 39%), Central/South America (down 3%), Africa (down 36%) and Europe (down 9%) compared to the previous month of August.
In January of this year, MeCCO expanded coverage to sixty-two newspaper sources, six radio sources and six television sources. These span across thirty-eight countries, in English, Spanish, German and Portuguese. In addition to English-language searches of "climate change" or "global warming", we search Spanish-language sources through the terms "cambio climático" or "calentamiento global", German-language sources through the terms 'klimawandel' or 'globale erwärmung', and Portuguese-language sources through the terms "mudanças climáticas" or "aquecimento global". Figure 1 shows these ebbs and flows in newspaper media coverage at the global scale – organized into seven geographical regions around the world – over the past 177 months (from January 2004 through September 2018).
Considerable attention was paid to political content of coverage during the month of September, as signs of a 'Trump Dump' returned in the US (where media attention that would have focused on other climate-related events and issues instead was placed on Trump-related actions (leaving many other stories untold)). For example, media attention was paid to Trump Administration announcements of rollbacks on regulations on methane emissions from oil and gas production. Journalist Timothy Puko from The Wall Street Journalreported on the proposed rollback of Obama-era climate rules, "moving to ease requirements for oil and gas companies that were designed to limit leaks of the heat-trapping gas methane". Journalist Coral Davenport from The New York Times observed "The new rules follow two regulatory rollbacks this year that, taken together, represent the foundation of the United States' effort to rein in global warming. In July, the EPA proposed weakening a rule on carbon dioxide pollution from vehicle tailpipes. And in August, the agency proposed replacing the rule on carbon dioxide pollution from coal-fired power plants with a weaker one that would allow far more global-warming emissions to flow unchecked from the nation's smokestacks". The Washington Post journalist Juliet Eilperin reported that "in the fourth rollback of a major federal climate rule in less than two months, the Interior Department eased requirements Tuesday that oil and gas firms operating on federal and tribal land capture the release of methane, a potent greenhouse gas. Officials said that the rule, adopted in 2016, was duplicative, given state laws, and imposed too heavy a burden on the private sector. Environmentalists and Democrats vowed to fight the reversal in court, saying that it would lead to greater air pollution and boost emissions linked to climate change. The 2016 regulation required operators to capture methane leaks, install more modern controls and develop a plan to reduce the release of the heat-trapping gas, which, for the first 20 years after being released into the atmosphere, is roughly 86 times more powerful than carbon dioxide. The new rule largely eliminates those requirements, including limits on how much methane can be released and burned off. Experts said the previous standards would have prevented the release of nearly 180,000 tons of methane into the atmosphere each year…According to Interior's analysis, the reduction in compliance costs would outweigh the royalties taxpayers would otherwise have received on the captured oil and gas, for a net saving of $734 million to $1.01 billion over a decade".
There was media coverage of the mid-September 'tweetstorm' by US President Donald J. Trump, just before Hurricane Florence made landfall less than 24 hours later. Figure 2 shows particularly notable tweets during this September 13 storm. The Washington Post journalists Philip Rucker, Robert Costa and Josh Dawsey wrote, "As Hurricane Florence churned toward the Carolinas, President Trump on Thursday diverted attention from the government's preparations for the monster storm to his personal grievances over last year's Hurricane Maria by falsely claiming a conspiracy to inflate the death toll in Puerto Rico. Trump drew immediate rebukes from Democrats as well as some Republicans for denying a sweeping study, which was accepted by Puerto Rican authorities".
At the subnational level the Global Climate Action Summit hosted by Governor Jerry Brown also garnered attention in media accounts. Journalist James Rainey from NBC News reported, "Seeking to cement California's reputation as a global leader in combatting climate change, Gov. Jerry Brown on Monday signed two measures designed to push the state to 100 percent renewable electricity and so-called carbon neutrality by 2045. Senate Bill 100 raises the state's already ambitious goals for producing electricity from wind, solar and other green sources. The aim is to ensure greenhouse gas emissions are low enough that they can be absorbed by forests, oceans, soil and other natural systems…Brown…also issued an executive order pushing the state to reduce its net output of greenhouse gases into the atmosphere — including from the single largest source, cars and trucks — to zero by the same 2045 deadline. Meeting the 100 percent carbon-neutral goal in just 27 years and potentially becoming "net negative" on carbon, gives California the most ambitious such target of any government in the world, the governor's office said". Reporter Liam Dillon from the Los Angeles Times called this "the latest in a series of ambitious goals set by the state to combat the effects of climate change".
Media accounts also focused on scientific dimensions of climate change and global warming during the month of September. For example, journalist Chris Mooney from The Washington Post covered how research teams from the Center for Research and Advanced Studies at the National Polytechnic Institute in Mexico and the University of Alaska Fairbanks were working to understand how methane releases from freshwater lakes contribute to global warming. Read more …