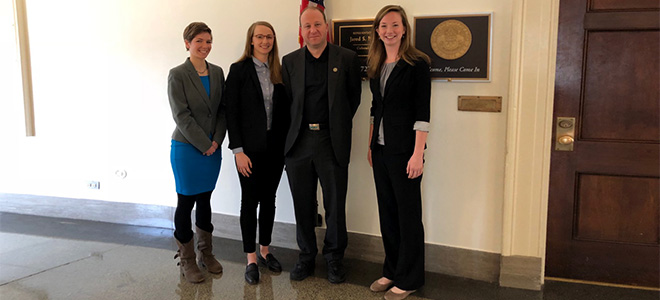 Julia Bakker-Arkema (Chemistry & Biochemistry, University of Colorado Boulder) was one of  the 2018 winners for the AAAS Student Workshop Competition. Below are comments from her workshop experience.
Over the course of three and a half days in Washington, D.C., I had the opportunity to learn about how science fits into the complex process of political decision-making. Whatever my understanding of the inner workings of our government was before I attended the AAAS CASE Workshop, it has drastically changed since I got a glimpse of the policymaking process first-hand. For the first three days of the workshop, I and almost 200 other students plunged into a crash course from science and technology policy experts about topics such as congressional committees, the federal budget process, and science communication methods. On the final day, we were able to put our knowledge to the test on Capitol Hill, where we met with our congressional representatives and their staff to discuss the importance of scientific research and to advocate for science funding and support in the then-forthcoming budget.
Congress is a complicated machine. When policymakers are deciding where to allocate funds, they have an enormous array of influences and stakeholders pulling them in different directions. Budget choices are influenced by constituents, power dynamics, politics, media, personal values, congressional rules, and countless other factors. It may be easy as scientists to sense that scientific research—both basic and applied—is crucial when it comes to setting a federal budget. But there are many groups and individuals with lots of ideas about what the government should be doing. It is up to scientists to make our voices heard among the many stakeholders at play; ultimately, the AAAS CASE Workshop helped to teach scientists like myself how to do this effectively.
Two of the most useful tips I learned regarding communicating with policymakers were to 1) know your audience, and 2) tell your story. As researchers, we tend to live in the realm of data and numbers. Very few congresspeople come from a scientific background, and thus they aren't necessarily informed or motivated by the same methods we typically use to communicate. As in any instance of communication or advocacy, understanding the background and perspective of the other person is crucial. Furthermore, personal stories can be incredibly effective tools when communicating with policymakers. Human connections are not often stressed when scientists talk about our research, but sharing personal experiences can help us to forge lasting relationships with lawmakers and to deliver our point of view more successfully.
Our time in D.C. culminated in an impressive snowstorm as we met with our congressional representatives—luckily all of the Colorado offices remained open for the day! We had the chance to talk about our research and express our thoughts about the importance of science funding within the federal budget. And in a dramatic finale, later that afternoon congress approved the largest U.S. research spending increase in a decade. I'd like to think that the presence of 200 students with an interest in science policy on Capitol Hill contributed to the increase in research funding. I look forward to using the science advocacy and communication skills I learned at the CASE workshop throughout my career, and I would encourage other interested students to apply.