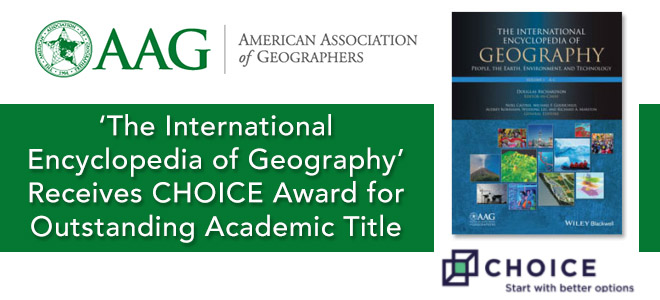 Max Boykoff and Gesa Luedecke's contributed a paper "Environment and the Media" to CHOICE Book Award Winner, The International Encyclopedia of Geography
The AAG-Wiley International Encyclopedia of Geography: People, the Earth, Environment, and Technology is the recipient of a prestigious CHOICE Outstanding Academic Title 2017 award from the Association of College and Research Libraries, a division of the American Library Association.
The new international AAG publication is the most comprehensive and authoritative reference work in geography today, and as it will be updated annually, will likely remain so for decades to come. Significantly, as the Encyclopedia's Editor-in-Chief Douglas Richardson noted, "this six-year encyclopedia project also resulted in building a collaborative international community of leading geography scholars and researchers who served as editors and authors, and with the international geographical societies and associations with whom the AAG interacted throughout the creation of The International Encyclopedia of Geography." This landmark work, published in 2017 in both hard copy (15 volumes) and online, is written for a graduate student audience, but also in a style to be accessible to undergraduates and the educated public.
Reviewed by CHOICE in October 2017, the Encyclopedia also received a "Summing Up" award of "Highly Recommended" for community college and undergraduate students through professionals/practitioners as well as for general readers. The published review referred to the work as "an initiative of the sort that yields high-quality, subject-specific information that librarians and faculty will want to direct students to, helping to counter the problem of novice researchers citing information that they readily encounter online but are ill-equipped to evaluate critically."
The selective CHOICE Outstanding Academic Title awards are determined by criteria including the importance of the work within the field, the value of the work for undergraduate students and in building an undergraduate library, the originality of the work, and overall excellence in presentation and scholarship. Works granted the distinction of Outstanding Academic Title are regarded among the academic library community as the best of scholarly titles published each year. "This is fantastic news," said Justin Vaughan, the Encyclopedia's publisher at Wiley & Sons. "The CHOICE award for Outstanding Academic Title is a highly prestigious award that will further raise the profile of the work in the library market and the academic community."