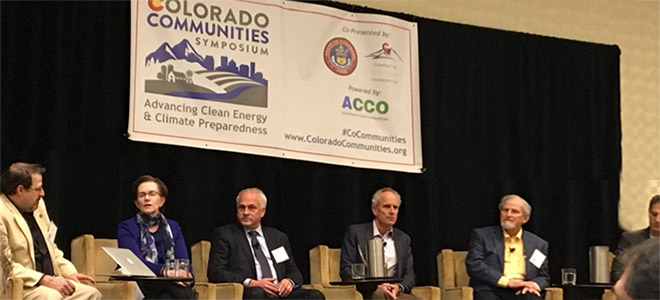 by Deserai Crow
Associate Professor, School of Public Affairs, CU Denver and CSTPR Faculty Affiliate
Photo: Plenary panel with Lieutenant Gov. Donna Lynne, Xcel Energy Colorado President David Eves, Denver Water CEO James Lochhead, City of Durango Mayor Dick White, and Western Resource Advocates President Jon Goldin-Dubois
As January turned to February in Colorado, and we all lamented the lack of snow and unseasonably warm winter, leaders from across the state gathered in Aurora to focus on climate preparedness. Governor John Hickenlooper talked to a crowded room of hundreds of people from government agencies, research institutes, academia, and non-governmental sectors. He told the crowd that when you love the place you live, you want to take care of that place. For the people who came to the Colorado Communities Symposium, this seemed to be central to their work.
After the first day of speeches by the Governor, Senator Bennet, Mayors Hogan and Hancock designed to praise the importance of the work and the people doing the work, we spent the following two days trying to determine how we could collectively work to move the state and our communities forward on issues such as resilience, clean energy, economic development, water and forest issues, and more.
My own research focuses on state and local environmental decision-making, particularly around issues such as risk mitigation, disaster recovery, and resilience, so I sat in Town Hall style meetings with people working to improve community-level resilience in Colorado. These folks came from the Colorado Office of Resiliency and Recovery, NREL, NOAA, universities, the private sector, and so many of our Colorado communities that see climate change, community development, and resilience as critical issues facing their communities in the coming decades.
As academics, we often struggle to find time or receptive audiences for our work to matter to practitioners who may need it. But this three-day symposium gave me some hope that here in Colorado there is the space, the desire, and the expertise to bridge these academic and non-academic worlds. From my seat, the stakeholders sitting around the tables both needed things and had things to offer others. These combined resources – when thoughtfully planned – might be ingredients to work towards meaningful positive changes across the state.
Local governments told stories of on-the-ground experiences trying to communicate risks and resilience with their residents. They talked about data on resilience and change, communication practices, partnerships, politics, and more. They talked about successes and frustrations. And they told us that they need frameworks and metrics that they could bring to their own communities and adapt to their local needs.
Federal agencies and labs pointed to the data that they gather and how much they desire for it to be used beyond the federal government.
Academics described their research and the data or expertise they can bring to questions about resilience, data needs, and translation of research into practice. They told the others how excited they would be to see that work used to improve local resilience.
The State of Colorado listened and asked about the next steps forward. State agency staff looked to the participants for needs, resources, and energy to move forward to turn the discussions into a process through which they might bring these needs and resources together to benefit communities across Colorado. The goal of a combined effort might be to learn from one another, draw on expertise and resources, and gain support needed for local planning and decision-making.
It's not uncommon for academics working in my area to feel disheartened, frustrated, or unheard as environmental protections, climate progress, and long-term planning towards more resilient communities are all stymied at the federal-level. This conversation over three-days in Colorado gave me a glimmer of hope that local and state-level changes can do a great deal to overcome that stymied progress, can help us academics get out of our spaces and into the world to help where we are useful, and can get stakeholders to talk to one another and learn from one another.
Leaving the symposium, my primary hope is that we don't stop with this exciting conversation in Aurora, but keep the conversation and the real work moving forward.