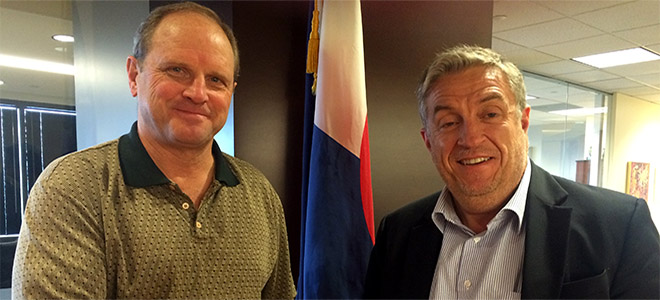 Augusto González has joined CSTPR through December 2016 while he is on an EU Fellowship from the European Commission in Brussels. Below is a portion of a blog post from Augusto's Exploring Space Commercialisation in Colorado Blog.

On August 17th I met Major General (Ret.) Jay Lindell at the State of Colorado Office of Economic Development and International Trade (OEDIT).
OEDIT's mission is to promote Colorado industry domestically and internationally and promote Colorado as the right place for companies to set up their businesses.
Jay Lindell is Colorado's Aerospace and Defence Industry Champion, a position created following the publication of the Brookings Institution report "Launch! Taking Colorado's Space Economy to the Next Level".
The report advised the state to "brand and relentlessly market Colorado's space economy" suggesting that a dedicated "sector champion…can further these efforts while at the same time spearheading space cluster development and ensuring regular dialogue with stakeholders."
I had a long and interesting conversation with Jay Lindell who has taken his role to heart. He emphasised that the key to Colorado's success in attracting and keeping aerospace industry is the state's very favourable business climate and its attractive natural environment. Read more …