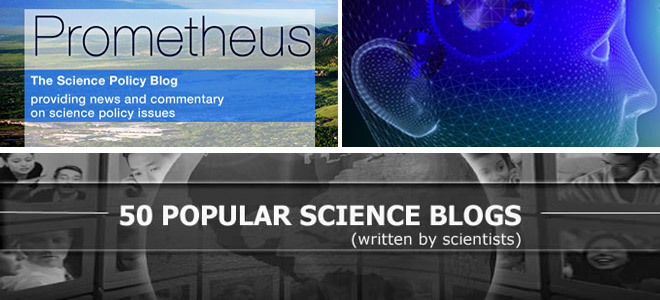 by Abigail Ahlert, CSTPR Writing Intern
In 2004, blogging was in its infancy. According to Google Trends, online interest in blogs was at a mere 16% of its eventual peak in 2009. Social networks that help people share their blogs today were years away from popularity. It was at this time that Shep Ryen, a student at the University of Colorado's Center for Science and Technology Policy Research (CSTPR), created the blog "Prometheus".
Ryen, who now holds a position at the Government Accountability Office (GAO) on the Natural Resources and Environment Team, started Prometheus as a term project for one of his graduate courses in science policy offered by CSTPR. Prometheus was—and is today—designed as an informal outlet for news, information, and opinion on science and technology policy. Inspired by this novel outlet for information, Roger Pielke Jr., then the director of CSTPR, took it upon himself to support Ryen's project and provide material for the blog.
By 2006, Prometheus had garnered significant attention. It was featured in multiple articles praising the role of scientists in the "blogosphere", including one in National Geographic News and another in Science Policy Forum. It was named as one of the 50 most popular science blogs in Nature News.
As blogging gained popularity and public interest in climate change grew, Prometheus readership expanded. In 2010 the CSTPR website was one of the most heavily trafficked websites on the CU-Boulder campus, in large part due to Prometheus. But when the blog required more upkeep than Pielke and CSTPR were able to provide, Pielke retired Prometheus and continued blogging on his personal site.
Prometheus lay dormant until 2013, when it was revived mostly as a source for CSTPR news. Today, there are big plans for its future. Prometheus 2.0 will soon be regularly featuring content from CSTPR core faculty, research associates, postdocs, visitors, students and affiliates to serve as a resource for science and technology decision makers. This new dynamism will reflect the new energies and pursuits taking place in and around the Center. The blog will now span a broader range of news, research updates and opinion writing. Prometheus is being revamped to improve how science and technology policies address societal needs, through research and education.
Stay tuned for the upgraded Prometheus, coming soon!