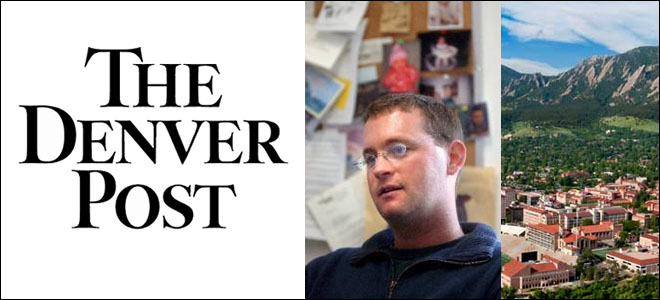 Denver Post
March 2, 2015
"We stand behind him."
It was good to see University of Colorado-Boulder Provost Russell Moore rally decisively on behalf of Professor Roger Pielke Jr. after the ranking Democratic member of the U.S. House Committee on Natural Resources, Rep. Raul M. Grijalva, launched an inquiry into the professor because of his academic views.
Grijalva has written CU (and six other institutions that employ researchers whose views on issues related to climate change he dislikes) demanding a mind-boggling amount of information, including Pielke's funding sources, communications and "all drafts" of testimony before "any government body."
Grijalva's purported purpose is to ferret out "conflicts of interest," specifically funding by energy companies, but in fact his gambit amounts to a bold, abusive assault on academic freedom.
Moreover, as Pielke noted on his blog, "I have no funding, declared or undeclared, with any fossil fuel company or interest. I never have. Rep. Grijalva knows this too, because when I have testified before the U.S. Congress, I have disclosed my funding and possible conflicts of interest. So I know with complete certainty that this investigation is a politically-motivated 'witch hunt' designed to intimidate me (and others) and to smear my name."
Pielke, by the way, has never disputed a role of human activity in climate change. He even favors a carbon tax and supports federal regulatory attempts to crack down on carbon emissions.
But his sin, it seems — as Grijalva tells it — is to have told the U.S. Senate that it is "incorrect to associate the increasing costs of disasters with the emission of greenhouse gases."
In short, he disagrees with the Obama administration and various environmental groups, which repeatedly claim — contrary to what Pielke documents as mainstream scientific thinking — that natural disasters have gotten more frequent, intense and costly as a result of global warming.
Pielke happens to have spent much of his career studying disasters and climate change, and is an international authority on the subject. But his careful opinions have resulted in repeated attacks by those who demand fidelity to the most alarmist view of present-day climate — to the point that he's apparently had it.
"The incessant attacks and smears are effective, no doubt. I have already shifted all of my academic work away from climate issues," he wrote on his blog.
It's a sad day when bullies such as Grijalva can push honest brokers such as Pielke into another line of research.
———————-
Other Recent News articles
Climate change question should change from 'Is it real?' to 'How bad is it?'
by Bob Bennett
Deseret News
March 2, 2015
It is clear that Democrats plan to make "climate change" a front-line issue in the 2016 campaign. They tried to do that in 2014 and got nowhere , but President Obama still brings it up at every opportunity. His science czar John Holdren calls it "urgent."
"Look around you," the Democrats say. "Droughts in California. Bitter cold in Boston. Tornadoes in strange places. This is the new normal and will only get worse unless drastic steps are taken immediately. Those who deny this put the planet in peril." By framing the issue in these terms — a bipolar fight between those who accept science and those who don't — and then wrapping themselves in the scientists' flag, they hope to gain the moral high ground.
That's why they are reacting so strongly against scientists who accept the global warming/climate change theory as correct but question the scientific validity of the projections about what it means in real world terms. Such scientific inquiry upsets the neatness of their bipolar construct.
A recent target of their ire is Roger Pielke Jr. of the University of Colorado, Boulder, an expert on extreme weather. He believes that climate is being affected by human emissions. He further believes that the consequences of doing nothing about it could be harmful. He favors a tax on carbon. So far, for Democrats, so good. However, Pielke has also highlighted data that shows that recent extreme weather events do not appear to have been caused by human emissions. That brought the full weight of Jon Holdren down on him.
Holdren should have realized that Pielke's statement — that there has been no increase in the frequency or intensity of hurricanes, floods, tornadoes, nor droughts since the mid-20th century— echos the position of the U.N.'s Intergovernmental Panel on Climate Change, the ultimate keeper of the climate change flame: "[T]here is not enough evidence at present to suggest more than low confidence in a global-scale observed trend in drought or dryness (lack of rainfall) since the middle of the 20th century." Read more …
———————-
Heat's on Climate Change Dissidents
by Debra J. Saunders
The American Spectator
March 2, 2015
"I am under 'investigation,'" professor Roger Pielke Jr. of the University of Colorado Boulder posted on his blog Wednesday.
The top Democrat on the House Committee on Natural Resources, Rep. Raul Grijalva of Arizona, sent a letter to university President Bruce Benson that asked the school to provide its financial disclosure policies and information on how they apply to Pielke, as well as any drafts and communications involving Pielke's testimony before Congress between Jan. 1, 2007, and Jan. 31, 2015.
In 2013, Grijalva explained, Pielke told the Senate that it is "incorrect to associate the increasing costs of disasters with the emission of greenhouse gases." Grijalva is a fervent believer in climate change. Pielke is a believer, as well. He has defended the Intergovernmental Panel on Climate Change report and supports a carbon tax. But Pielke doesn't buy all the hype — hence his testimony that challenged the catastrophic-weather argument. For that, Grijalva wants to give Pielke the full treatment — a full financial and documentary probe.
Without the agreement of Rep. Rob Bishop of Utah — who is the committee's chairman — the ranking Democrat asked for documents from six other academics, including my old pal Steve Hayward at Pepperdine University's School of Public Policy, who have challenged global warming orthodoxy. Grijalva is fishing on one side of the pond only.
Climate change true believers always say they want to keep politics out of science, but they cannot help themselves.
Pielke calls it a "politically motivated 'witch hunt'" designed to intimidate a point of view. What prompted the probe? On Feb. 21, the New York Times reported that Harvard-Smithsonian Center for Astrophysics scientist Wei-Hock "Willie" Soon, a global warming skeptic, had received more than $1.2 million from the fossil fuel industry but failed to disclose his funding in journals that published his work. So Grijalva apparently decided to interrogate others presumed guilty by association of belief. Read more …