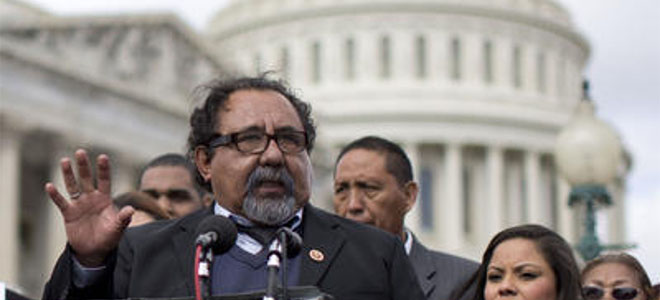 Democratic rep still seeks funding sources, but not correspondence
By Mitchell Byars
Daily Camera
March 3, 2015
The Arizona Congressman who last week asked the University of Colorado to disclose the sources of funding for professor Roger Pielke Jr. now admits an additional request for communications regarding such funding was an "overreach" — but defended the search as an effort to seek important disclosures for figures in the climate change debate.
Democratic Rep. Raul Grijalva last week sent letters to seven different universities — including CU — that employed researchers who have been skeptical or controversial in their positions on climate change in an effort to determine whether any had received research funding from fossil fuel companies.
In the letters, Grijalva asked the universities to disclose all sources and amounts of external funding for those professors, as well as any communications regarding the funding or testimony by the professors to Congress or other bodies.
But on Monday, Grijalva told the National Journal that his request for the communications went too far.
"The communications back-and-forth is honestly secondary, and I would even on my own say that that was an overreach in that letter," Grijalva told the publication. "I want the disclosure (of funding sources). Then people can draw their own conclusions."
Grijalva said he would be willing to back off the communications request if it prevented him from obtaining the other disclosures he was seeking.
"As long as we get a response as to the funding sources, I think everything else is secondary and not necessary," Grijalva said.
Pielke said that Grijalva's letter was "absolutely" a witch hunt, and that his statements Monday further show that the letters were just a smear attempt.
"That just goes to show, if all he wants is material that is already out there in the public record, the point of the letter was purely political," Pielke told the Daily Camera on Tuesday. "If you're a young academic, you see this kind of retaliation for giving testimony that one party or another doesn't like, and it provides a pretty strong disincentive."
Grijalva's office did not respond to requests for comment. Read more …