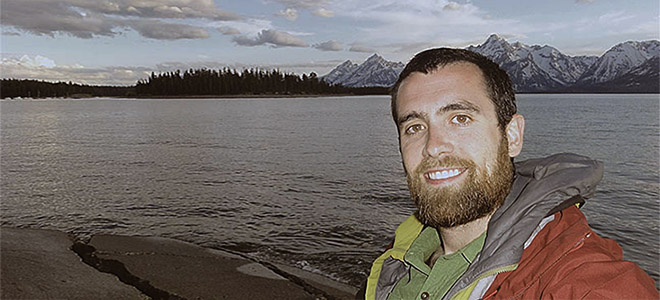 by Alison Gilchrist, CSTPR Science Writing Intern
A lie is more convincing if it's backed up by multiple sources. For the many organizations deliberately sowing mistrust of climate science, this was clearly a lesson taken to heart. Justin Farrell, a visiting professor from Yale currently stationed at the CIRES Center for Science and Technology Policy Research (CSTPR), has been studying how the seemingly unconnected organizations distributing misinformation about climate change are actually part of a broader network, a network that has managed its information flow to be as convincing as possible.
In 2012, Farrell had a hunch – he thought that organizations spreading misinformation about climate change were probably working together to create a cohesive message. He decided to try using social network analysis to confirm this theory.
"I tried to look at it as objectively as I could," said Farrell. "I said: 'Let's trace the connections between organizations who are involved in spreading misinformation about climate change.'"
Farrell focused on Exxon and the Koch family foundations, prominent corporations involved in spreading of misinformation. He was especially interested in identifying the organizations that received money from Exxon or the Koch foundations, which justified their connection in his recreated network. He also looked at who was sitting on the boards of every organization in the network to try and find the individuals who linked two or more organizations.
"I was really trying to get a handle on the cohesiveness of this movement," said Farrell. "Instead of blaming one organization, let's understand how it's structured. Let's understand who's more powerful, who has the most connections."
This "bird's eye view" of the network is a valuable tool in understanding the movement to deny climate change.
"Money really has power within this movement, but not in the sense of providing resources, like advertising and things, it more signifies the cohesiveness of the movement," said Farrell. "You start seeing an inner core of organizations—they're funded by the same sources, sit on the same boards, that sort of thing. This means they are able to organize each other more effectively."
How do these connections, and specifically the receipt of money, change the messages that an organization disseminates? Farrell collected all publicly available writings from the organizations in his network, a collection that includes web pages, pamphlets, and other written material, between 1993 and 2013. He used machine-learning methods—essentially helping the computer to identify patterns hidden to us—to characterize themes in the writing disseminated by these groups. These themes included temperature trends, human health—even Al Gore.
"Over time, organizations who received money differed from organizations who didn't," said Farrell. Organizations receiving money tended to write about the same themes at the same time, suggesting that they were being directed to focus on particular things.
On Wednesday, March 15 Farrell will discuss his research on this topic, including the machine learning methods he developed to analyze the massive amount of textual data (see Nature Climate Change and PNAS). The talk is at CSTPR from noon- 1:00 pm, and is free and open to the public.  CSTPR is located at 1333 Grandview Avenue, Boulder. Directions to CSTPR.