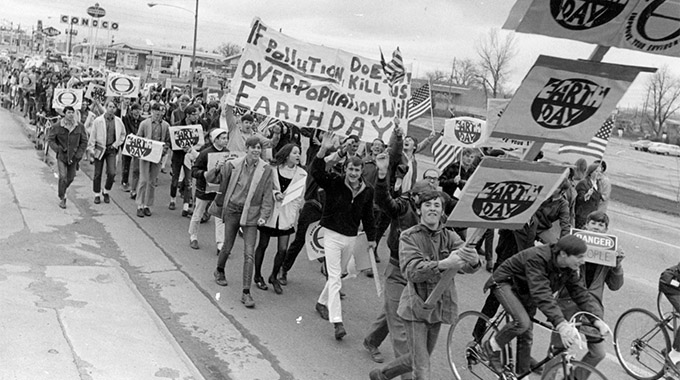 by Colleen Johns
Winning entry from an op-ed contest in Matt Burgess's ENVS 4100: Sustainable Economies class
Photo: Arvada High School students marching for Earth Day on April 22, 1970. Photo: Dick Davis/Rocky Mountain News.
Parties are generally fun. They bring people together through cake and laughter and dancing and sometimes pinatas. Birthday parties, retirement parties, Halloween parties, holiday parties, and block parties exude happiness. But one party in particular is the opposite of happy these days—
the political party.
Today, political parties are anything but fun. In fact, sometimes they're rude, mean, and cruel. Lately, our nation's two largest political parties can't seem to agree on anything. If they were asked to pick a dessert to share, they'd likely disagree. It is no surprise than that solutions to issues much larger than the flavor of a cake, such as climate change, are also stifled by disagreement.
Climate policy hasn't always been a partisan issue. Nearly fifty years ago to the day on April 22, 1970, the first Earth Day was officially celebrated in the United States. Developed by Democratic Wisconsin Senator Gaylord Nelson and supported by bipartisan grassroots efforts across the country, the celebration was observed by 20 million Americans through rallies and protests for a clean and healthy environment. By the end of 1970, America had established the Environmental Protection Agency and passed the Clean Water, Clean Air and Endangered Species Act.
Today, though the parties agree on the reality of climate change, climate policy to address the issue is polarized. But if climate policy is not a new issue, and bipartisan efforts to address climate change have succeeded in the past, why is polarization today so significant?
In a 2018 study, researchers found that citizens and policymakers tend to support policy from their own party and devalue the policies proposed by the other. However, disagreement strictly for the sake of partisanship is sometimes exaggerated, and this exaggeration only increases political divide. If America truly wants to end political polarization over climate policy and move forward addressing climate change, it must speak positively of the working relationship between Republicans and Democrats and decouple political identity from climate policy.
Positivity is powerful. In a study measuring the effects of what the researchers called "positive psychological capital" on work performance and satisfaction, the researchers found that individuals who are more hopeful, optimistic, efficacious, and resilient may be more likely to weather adversity. These individuals perform better in the workplace and are generally more satisfied with their work. Employing any one of these attributes in policy may help Congress overcome polarity.
The first Earth Day succeeded not because the Democratic party supported Nelson more than the Republican party opposed him, but because both parties supported him (Nelson's co-chair for the Day was Republican Congressman Pete McCloskey). To achieve the bipartisan support the first Earth Day did today, partisanship must be made a nonfactor. The congressional leaders of climate policy must represent both sides such that there are no sides at all; there is one effort by many groups just as there is one Earth inhabited by many individuals. An inhabitable planet must be prioritized. After all, no planet? No parties.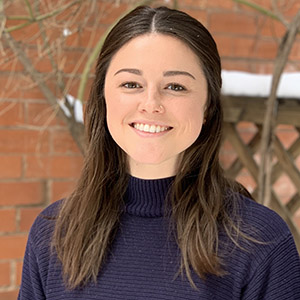 Colleen Johns is an Ohio native who moved to Colorado to pursue her interests in human and planetary health as a graduate student at the University of Colorado Boulder specializing in Sustainable Food Systems. She studies regenerative agriculture as both a research assistant at the university and as a fellow with the Boulder-based nonprofit, Mad Agriculture. Her passion for food is matched by her passions for comedy, nutrition, hiking, and most recently, roller skating.