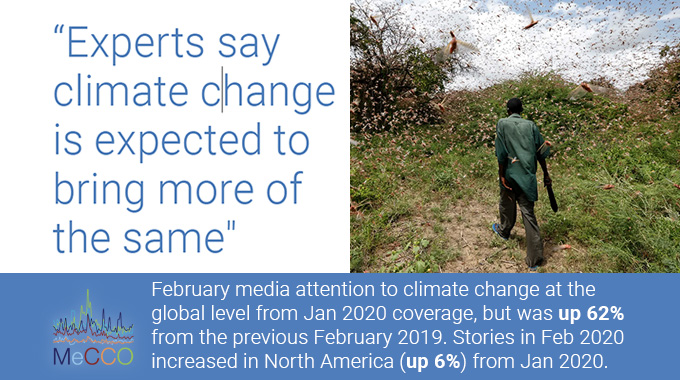 Media and Climate Change Observatory (MeCCO)
February 2020 Summary
February media attention to climate change and global warming at the global level decreased 12% from January 2020 coverage, but was up 62% from the previous February 2019. Regionally, stories in February 2020 increased in North America (up 6%) from January 2020. Meanwhile, coverage decreased in all other regions in February 2020 compared to the previous month. Yet, there were increases in coverage in all regions except Africa (down 15%) in February 2020 compared to February 2019, with coverage increasing most in Oceania (up 53%) and in North America (up 81%). Figure 1 shows trends in newspaper media coverage at the global scale – organized into seven geographical regions around the world – from January 2004 through February 2020.
New this month are regional figures across Africa (15 sources), Asia (23 sources), Europe (33 sources), Latin America (12 sources), the Middle East (6 sources), North America (20 sources) and Oceania (8 sources). We now track media coverage of climate change or global warming in ten languages:
English: 'climate change' or 'global warming'
French: 'changement climatique' or 'réchauffement climatique'
German: 'klimawandel' or 'globale erwärmung'
Italian: 'cambiamenti climatici' or 'riscaldamento globale'
Japanese: '温暖化' or '気候変動'
Norwegian: 'global oppvarming' or 'klimaendring'
Portuguese: 'mudanças climáticas' or 'aquecimento global'
Russian: 'изменен климат' or 'глобальн потеплен'
Spanish: 'cambio climático' or 'calentamiento global'
Swedish: 'global uppvärmning' or 'klimatförändring'
At the national-level, coverage in February 2020 generally declined slightly from January 2020 in the twelve nations where we specifically monitor country coverage (among 55 countries total). The exceptions in February 2020 were Canada (up 47%), United States (US) television (up 6%) and Russia (up 13%) compared to the previous month's coverage in January 2020. Of note, thanks to the work of colleagues Gabi Mocatta and Erin Hawley from the University of Tasmania, we at MeCCO have begun to monitor four print sources in Russia from January 2000 – February 2020: Izvestiya, Rossiskaya Gazeta, Nezavisimaya Gazeta, and Komsomolskaya Pravda.
In February, political and economic content dominated media coverage. Among numerous stories, corporations' declarations to move to carbon neutrality grabbed media attention. Among them, British Petroleum (BP) declarations to offset their emissions was a counter-intuitive story that earned news considerations and scrutiny. For example, Wall Street Journal reporters David Hodari and Adriano Marchese wrote, "BP PLC pledged to reduce its net carbon emissions to zero by 2050 and restructure its oil-focused businesses to better navigate a transition to other fuels—a dramatic, if vague, promise by one of the world's biggest energy companies amid investor and consumer pressure over fossil fuels. The goal is the latest in a series of commitments, made over decades, by big oil companies to reduce emissions. While bold in ambition, BP didn't provide details about how it expects to accomplish the goal, or how much it will cost". New York Times journalist Brad Plumer reported, "the pledge is another sign that major companies, including fossil-fuel producers, are facing growing pressure from investors and activists to show they are taking global warming seriously… Rising concerns about climate change pose an existential threat for oil and gas companies, since scientists have said that preventing dangerous temperature increases will require steep reductions in the use of fossil fuels. In recent years, shareholders have pressed oil companies to prepare for a future in which countries shift to electric vehicles or enact new regulations to limit carbon dioxide emissions".
Meanwhile, the February Instagram announcement by Amazon CEO Jeff Bezos to give US$10 billion to confront climate change generated numerous radio, television and newspaper stories. For example, CNBC journalist Thomas Franck wrote, "Amazon founder and CEO Jeff Bezos on Monday announced the launch of a new Earth Fund that the e-commerce chief plans to use to combat the effects of climate change. He said in an Instagram post that he's pledging $10 billion to start the fund, which will be called the Bezos Earth Fund, and will issue grants to scientists, activists and other organizations in their efforts to "preserve and protect the natural world." "We can save Earth," Bezos wrote in his post. "It's going to take collective action from big companies, small companies, nation states, global organizations, and individuals." "Climate change is the biggest threat to our planet," he added. "I want to work alongside others both to amplify known ways and to explore new ways of fighting the devastating impact of climate change on this planet we all share." Bezos added in his post that he expects the Earth Fund to begin issuing grants to climate-oriented causes as soon as this summer". Concern, suspicion and critique proliferated as well. For example, journalist Amy Held from US National Public Radio reported, "some Amazon workers, deeply critical of their employer's own environmental record, say it is Amazon itself that has been complicit in the climate crisis and must change its ways. "We applaud Jeff Bezos' philanthropy, but one hand cannot give what the other is taking away," Amazon Employees For Climate Justice said in a statement in response to the pledge. "When is Amazon going to stop helping oil & gas companies ravage Earth with still more oil and gas wells? When is Amazon going to stop funding climate-denying think tanks like the Competitive Enterprise Institute and climate-delaying policy? When will Amazon take responsibility for the lungs of children near its warehouses by moving from diesel to all-electric trucking?" In April, thousands of Amazon workers signed an open letter to Bezos and Amazon's board of directors, calling on them to end contracts with oil and gas companies, halt donations to climate change-denying lawmakers and setting measurable goals".
Also in February, stories of United Kingdom (UK) preparations for the United Nations Conference of Parties meeting on climate change earned media attention. For example, early in February journalist Jill Lawless from The Associated Press reported, "Britain announced Tuesday that it plans to ban the sale of new gas and diesel cars by 2035 — five years earlier than its previous target — in a bid to speed up efforts to tackle climate change. The announcement was timed to coincide with the launch of Britain's plans for the United Nations' climate summit, known as COP26, which is scheduled to be held in Glasgow in November. But the U.K. government's commitment to reducing greenhouse gas emissions was questioned by the woman who was appointed by Prime Minister Boris Johnson to head the Glasgow climate summit — and then was fired last week". Moreover, longtime BBC journalist Roger Harrabin noted, "The UK is hosting COP26 in Glasgow in November – but Boris Johnson sacked president Claire O'Neill on Friday. Mrs O'Neill told the BBC there was a "huge lack of leadership and engagement" from the government. But senior cabinet minister Michael Gove said Mr Johnson was dedicated to environmental issues. Mr Gove told BBC Radio 5 Live that the prime minister described his political outlook as that of a "green Tory" when they first met 30 years ago. "Ever since then I've seen his dedication to ensuring that we fight to ensure that our Earth is handed on in a better state to the next generation," he said. But Ms O'Neill, the former Conservative minister for energy and clean growth, said people should be wary of the prime minister's promises. "My advice to anybody to whom Boris is making promises – whether it is voters, world leaders, ministers, employees, or indeed family members – is to get it in writing, get a lawyer to look at it and make sure the money's in the bank," she told BBC Radio 4's Today programme". Read more …