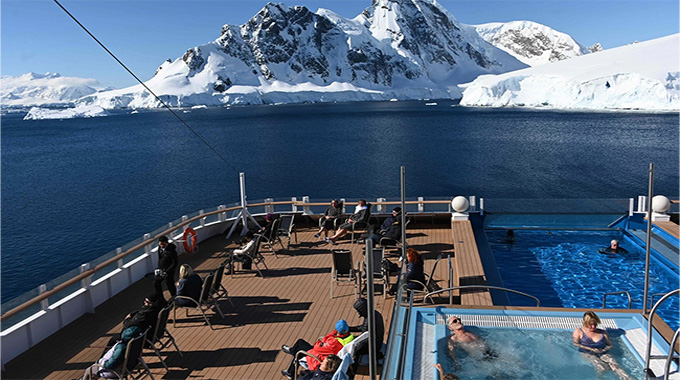 Travel to one of the most remote parts of the planet is booming. What does that mean for the environment and visitor safety?
New York Times
by Paige McClanahan
In January, the Coral Princess, a ship with 2,000 berths and a crew of nearly 900, plowed through the frigid waters off the Antarctic Peninsula, cruising past icebergs, glaciers and mountains clad in snow. The cruise, which had been advertised at less than $4,000 per person, is remarkably cheaper than most Antarctic expeditions, which often charge guests at least three times that amount for the privilege of visiting one of the wildest parts of the planet. Visitors to the region — and the ships that carry them — are growing in number: Antarctica, once accessible only to well-funded explorers, is now edging toward the mainstream.
But managing tourism is a tricky issue in this distant region where no individual government has the power to set the rules, and the challenge is becoming more complex as Antarctica's popularity grows. During the current austral summer, which runs from roughly November to March, visitor numbers to Antarctica are expected to rise by nearly 40 percent from the previous season. Some observers warn that such rapid growth risks imperiling visitor safety and adding pressure to this fragile region, which is already straining under the effects of climate change, commercial fishing for krill, toothfish and other species, and even scientific research.
Human activity in Antarctica falls under the governance of the Antarctic Treaty system, a model of international cooperation that dates to the Cold War era. But day-to-day management of tourism is regulated by the tour operators themselves, through a voluntary trade association that sets and enforces rules among its members. Observers agree that this system has worked well since it was set up in the 1990s, but some worry that booming tourist numbers could push the old system to a breaking point. They say that the consultative parties to the Antarctic Treaty system — governments like those of the United States, France, New Zealand, Argentina and some two dozen others — must act more quickly to manage tourism, and protect the region's value as a wilderness.
"The bottom line for us is that there aren't a lot of hard rules governing tourism. It's mostly voluntary," said Claire Christian, executive director of the Antarctic and Southern Ocean Coalition (ASOC), a network of more than 15 conservation groups that serves as an observer to the Antarctic Treaty system. "Right now, there is a lot of good will. But that's not something you can guarantee."
A fragile environment
Scientists warn that the rise in tourism also increases the risk of disrupting the fragile environment. The introduction of invasive species — nonnative crabs or mussels clinging to the hull of a ship, foreign plant seeds stuck in the lining of a tourist's parka — remains an important and ever-present threat. There is also evidence that populations of penguins and other wildlife have been disturbed by human activity in some areas. At the popular Hannah Point, there have been two reported instances of elephant seals falling off a cliff because of visitor disturbance. At other sites, historic structures have been marred by graffiti.
The Antarctic Treaty parties have drawn up "site visitor guidelines" for 42 of the most popular landing sites; these govern things like where ships are allowed to land, where visitors are allowed to walk, and how many landings are allowed per day. But the IAATO website lists more than 100 landing sites on the Antarctic Peninsula. Those with no guidelines in place may become more popular as tour operators try to avoid the crowds.
Pollution from ships is another concern. Although the International Maritime Organization's polar code introduced new measures to control pollution, it still allows ships to dump raw sewage into the ocean if they are more than 12 nautical miles, roughly 13.8 miles, away from the nearest ice shelf or "fast ice" — stationary sea ice attached to the continent or grounded icebergs. It also fails to regulate discharges of "graywater," runoff from ships' sinks, showers and laundries that has been shown to contain high levels of fecal coliform as well as other pathogens and pollutants. Concerns about pollution are perhaps all the more worrying given the arrival of Princess Cruise Lines, which — alongside its parent company, Carnival Corporation — has been heavily fined for committing serious environmental crimes in other parts of the world.
A spokeswoman for Princess Cruises stressed in an email that the company is "committed to environmental practices that set a high standard for excellence and responsibility to help preserve the marine environment in Antarctica." Negin Kamali, Princess Cruises' director of public relations, added that the company meets or exceeds all regulatory requirements for Antarctica.
Fuel pollution, especially carbon emissions — is another concern, although there have been some positive steps. In 2011, the use of heavy fuel oil in the Antarctic was banned under the International Convention for the Prevention of Pollution from Ships (MARPOL). Today, ships in the region generally use less-polluting marine diesel, although some — like the MS Roald Amundsen, run by the Norwegian company Hurtigruten — have gone a step further, supplementing their traditional fuel with battery power. Princess Cruises is currently testing similar technologies, said Ms. Kamali.
In the background, warmer temperatures are making the entire continent more vulnerable to external threats.
"It's important to understand that all of these impacts — climate change, fishing, tourism — are cumulative," Cassandra Brooks, an assistant professor in environmental studies at the University of Colorado Boulder, wrote in an email. "Given the sheer carbon footprint of Antarctic tourism, and the rapid growth in the industry, these operations will become increasingly difficult to justify." Read more …