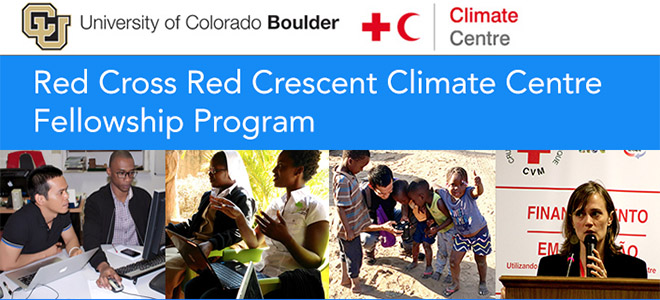 CU-Boulder has partnered with the Red Cross Red Crescent Climate Centre (RCRCCC) to place graduate students in locations Southern/Eastern Africa each summer to help understand and address climate risks. This collaborative program targets improvements in environmental communication and adaptation decision-making as well as disaster prevention and preparedness in the humanitarian sector. It connects humanitarian practitioners from the Red Cross Red Crescent Climate Centre – an affiliate of the International Federation of Red Cross and Red Crescent Societies – with graduate student researchers at the University of Colorado who are interested in science-policy-humanitarian issues. 
This fellowship program will place a Ph.D. and/or Master's degree student in an IFRC regional field office, a National Society branch office, or with a partner organization for a period of approximately 3 months. The Climate Centre supervisors will liaise with specific IFRC field offices to identify potential projects and placements. If possible, the student will partner with a student from a local university to work on all or parts of the project together, to contribute to local ownership and research capacity building. This process will be with the host Red Cross Red Crescent National Society and Climate Centre Junior Researcher Coordinator and Supervisor, to align with any existing institutional connections and partnerships in the host country.
Once projects are identified, Climate Centre supervisors will work with co-Director Max Boykoff, co-Director Fernando Briones and the student to design a scope of work. Projects can encompass but are not limited to, topics such as the use of scientific information in decision making, communication of probability and uncertainty, perceptions of risk, characterizing vulnerability and adaptive capacity, or recommending course of action based on analytical approaches. Placements in the field will address specific needs identified by IFRC field staff related to challenges of science communication and adaptation decision-making.
Participants will be required to write six blog posts from the field during this placement, give some presentations (e.g. in the CSTPR brown bag series) upon return, and complete a report at the conclusion of their fellowship detailing their experience and research outcomes.
$4,000 funding in total will be provided to offset expenses (in-country housing, food, airfare, and in-country transportation). Expenses can vary widely depending on the location and nature of the placement. Fellows will work with CU-affiliated travel agents to arrange round-trip airfare to their field site. Due to this $4,000 limit, applicants are encouraged to seek additional funds from alternate sources, as expenses can exceed this budgeted amount. 
Application Deadline: March 9 at 12PM (MT)
More Information