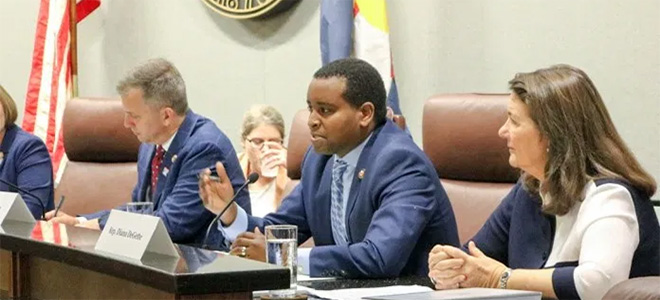 The Colorado Independent
by Robin Bravender
"Stop Climate Censorship Act" would require officials to use data to defend decisions to remove climate content from studies.
A freshman Colorado congressman, troubled by allegations of climate censorship by the Trump administration, is attempting to make it harder for political appointees to scrub scientific information from government reports.
Rep. Joe Neguse (D-Colo.) introduced legislation this month dubbed the "Stop Climate Censorship Act." If enacted, it would require political appointees at federal agencies to provide data to back up any decisions to remove climate change content from scientific studies or press releases.
"There's any number of examples" of controversies surrounding climate censorship under the Trump administration, Neguse told the Colorado Independent this week in an interview. He pointed to one of the highest-profile examples in his own congressional district.
Maria Caffrey, a former University of Colorado research assistant and a paid partner of the National Park Service, said her research on how climate change would impact national parks was sidelined by Trump administration officials.
She testified at a hearing before the U.S. House earlier this year that National Park Service officials made "explicit attempts to get me to remove references to anthropogenic or human-caused climate change from my report."
Agency management gradually cut off her access to research funding, Caffrey testified: "I had become an outcast for standing up."
Another controversy surrounding scientific censorship occurred earlier this year when officials at the National Oceanic and Atmospheric Administration reportedly backed President Donald Trump over the agency's own researchers.
After Trump asserted without evidence that Alabama would most likely be hit much harder than anticipated by the approaching Hurricane Dorian, National Weather Service staff was told to "only stick with official National Hurricane Center forecasts" if questions arose about Trump's assertions and to refrain from providing any opinions, The Washington Post reported.
Trump famously used a black Sharpie marker to add an extra loop onto a map of Dorian's predicted path to encompass Alabama.
"In light of recent attempts by this administration to censor science, including threats in September to fire NOAA officials who failed to back President Trump's inaccurate statements on Hurricane Dorian, legislation to prevent the political interference of federal science is critically needed," Neguse said in a statement.
A Jan. 2018 report by the Environmental Data & Governance Initiative, which analyzed websites across the federal government, found "substantial shifts" under the Trump administration in "whether and how the topic of climate change and efforts to mitigate and adapt to its consequences are discussed across a range of federal agencies' websites."
The report also found a "significant loss of public access to information about climate change."
Taking action to curb the impacts of climate change is critical for Colorado, Neguse said.
A fact sheet – published by the U.S. Environmental Protection Agency under the Obama administration in August 2016 and archived online – outlines some of the ways that climate change caused by humans will impact Colorado.
The expected consequences include more common heat waves, decreased water availability and agricultural yields, and increased risk of wildfires.
Neguse introduced the bill with two of his Democratic colleagues, Reps. Suzanne Bonamici of Oregon and Sean Casten of Illinois.
The Colorado congressman said he's optimistic that it'll get a vote in the U.S. House Science, Space and Technology Committee, where Bonamici is a senior member. Neguse is also hoping to include the legislation in a package of bills that will be considered by the House Select Committee on the Climate Crisis. Neguse, a member of that committee, has made climate change one of his key focuses. He was a strong and early supporter of the Green New Deal and recently traveled to Spain for the UN Climate Change Summit as part of a delegation led by House Speaker Nancy Pelosi.
He said he's optimistic that companion legislation will be introduced in the Senate, but recognizes that the bill is unlikely to see movement in that chamber.
Neguse acknowledged "the realities of the Senate" under its current GOP leadership and the fact that many bills "continue to languish" under Senate Majority Leader Mitch McConnell (R-Ky.).
That scenario "makes the road much more difficult in the upper chamber, but we're going to continue to push," Neguse said.
To become law, the legislation would also need to win Trump's signature or win enough votes to override a White House veto — both of those scenarios are highly unlikely.
Max Boykoff, director of the Center for Science and Technology Policy Research and an associate professor at the University of Colorado Boulder, welcomed Neguse's legislation.
"Irrespective of anyone's political party affiliation, this is important legislation for those seeking improved accountability among political appointees and ongoing access to important information about climate change for decision-making," Boykoff said in a statement.
In order to implement bold policies to tackle climate change, Bonamici said, "those policies must be informed by the best available science. At a time when the Trump Administration regularly dismisses and denies climate science, it is our responsibility to protect the work of federal science agencies and to make sure that scientists are heard and supported rather than censored."