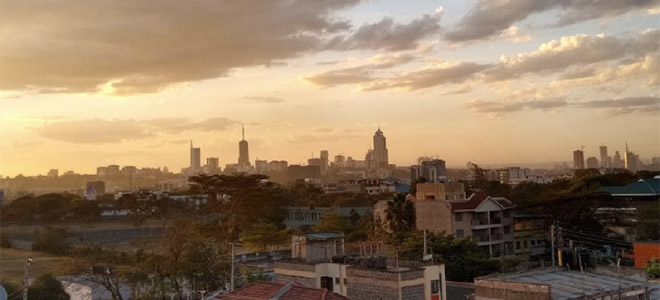 Red Cross/Red Crescent Climate Centre Internship Program
by Sarah Posner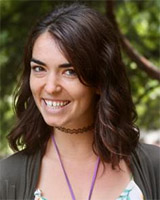 Sarah Posner is the 2019 Junior Researcher in the Red Cross Red Crescent Climate Centre (RCRCCC) program. She is a Masters student in the Geography Department at University of Colorado Boulder.
View photo gallery in the field by Sarah Posner
During the final week of my placement, I attended the second annual national dialogue, which drew representatives from the government, NGO and academic specialists, members of the humanitarian and development communities, and national societies to discuss Forecast based Financing (FbF). The national dialogue was a two-day event that created space to discuss FbF, trigger methodology, and some of the potential drawbacks in its implementation. You could feel the buzz of excitement throughout the room from this highly anticipated event, which will hopefully open new channels of communication across county and national levels in future dialogues, which is required in the implementation of Forecast Based Financing (FbF).
Along with the data team, I presented the prioritized drought impacts we have been refining over the past three months within small group discussions. These discussions proved to be a productive conversation about the challenges, opportunities, and data available to properly implement FbF before a drought occurs. In small groups, we brainstormed early action for primary drought impacts. These impacts include water scarcity, lack of pasture, and reduced crop yield and some of the early actions we brainstormed include repairing boreholes, repositioning water tanks, encouraging water rationing, commercial livestock de-stocking, veterinary care for deteriorating livestock body condition, disease surveillance, food supplements for children, and conditional cash transfers.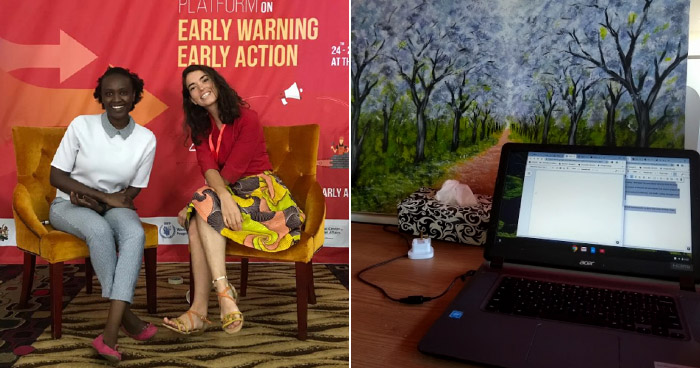 Left photo: Coworker Kate and I at the national dialogue event. Right photo: Painting given to me by the ICHA team as a going away present. Credit: Sarah Posner.
The experience was eye-opening as to the bureaucratic loopholes one has to jump within implementation of an early warning system. Engaging in a dialogue with representatives from various government and private sectors gave the opportunity for collaboration, which is of the essence in the implementation of a national scale approach to FbF that requires high levels of coordination at the local, county and national levels.
While I was not able to complete everything on the Terms of Reference during my placement, which included developing triggers for drought impacts, the prioritization of these impacts proved to be a challenging task that required immense coordination amongst various stakeholders. I learned a great deal about how to open channels of communication that cross-cut sectors.
I will continue to support the data preparedness team as they conduct an analysis of thresholds for drought using the Vegetation Condition Index (VCI). Considering my experience in spatial analysis and regional research interests in Kenya, I look forward to continuing to work further with this highly skilled team at the KRCS and to offer new channels of communication and collaboration between the Climate Center and CU Boulder for future research projects centered around climate change.
Left photo: Going away party with the team. Right photo: Coworker Steve eating his favorite nyama choma (grilled meat) at lunchtime. Credit: Sarah Posner.
I want to take the rest of this blog post to thank my colleagues at the International Center for Humanitarian Affairs (ICHA) at the Kenya Red Cross for embracing me with open arms into the team. The nickname you guys gave me, Njeri, will be one I carry with pride. I looked forward to coming into work each and every day and being greeted by your warm and smiling faces. Thank you for a memorable going away party; I hope you had as much fun as I did and for the beautiful painting. I will never forget my experiences working with the ICHA team and have lifelong friendships coming out of this experience, thanks for including me as part of the family.
Finally, thank you to Max Boykoff, Jennifer Katzung, Ami Nacu-Schmidt, and Fernando Briones at CU Boulder for making this placement possible. I would recommend the CU Boulder and Red Cross Red Crescent Climate Centre summer program to any CU graduate student looking to get their hands dirty with work on the ground learning how the Red Cross Society operates as well as learning a great deal about themselves in the process.