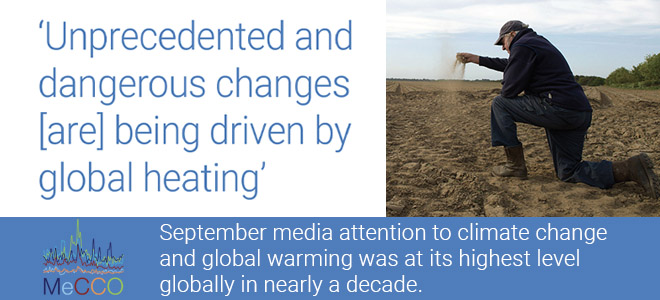 Media and Climate Change Observatory (MeCCO)
September 2019 Summary
September media attention to climate change and global warming was at its highest level globally in nearly a decade. Coverage was most abundant in history apart from attention in November and December 2009 associated with the Copenhagen round of climate talks (COP15) and the University of East Anglia email hacking scandal 'climate-gate'. Compared to the amount of coverage in the previous month of August, global coverage was up nearly 24% and compared to the amount of coverage a year ago (September 2018), it was up 126%. Compared to August 2019 overage also was up across all regions: Africa (+10%), Asia (+32%), Europe (+25%), Middle East (+6%), North America (+13%), Oceania (+20%), and Latin America (+28%). Compared to the previous month, coverage also was up across the wire services (+25%) and across global radio segments (+59%).
This burgeoning coverage lends itself to the notion that media are treating climate change not as a distant challenge in space and time, but as an intersectional set of issues in the here and now. Figure 2 shows trends in newspaper media coverage at the global scale – organized into seven geographical regions around the world – from January 2004 through September 2019.
Trends, however, varied across countries. MeCCO documented particularly strong signals in the quantity of coverage in the United States (US) in September in both television and print media. US television media reached its second highest levels (after the aforementioned period of November and December 2009. US print media of climate change or global warming reached an all-time high since MeCCO monitoring began in January 2000. US print media coverage of climate change surpassed the previous high water mark achieved in January 2017 (largely dominated by speculation of how newly inaugurated US President Donald Trump would impact global efforts to combat climate change (See MeCCO Summary 1 for details). Contributing to these increases, a 'Covering Climate Now' campaign was led by US-based media organizations Nation and Columbia Journalism Review designed to increase media coverage of climate change across more than 300 participating outlets. With a combined potential audience of over 1 billion readers, viewers and listeners, this initiative contributed to the increases in coverage that we in MeCCO detected.
Similarly, New Zealand print media coverage reached an all-time high, while the amount of coverage in Germany and Spain were second highest, and the United Kingdom reached the fourth highest on record in the month of September. Also in September 2019, Indian print media coverage reached an all-time high (see Figure 5 for more details). Compared to the previous month of August 2019, coverage was up in all eleven countries MeCCO monitors, except one: Canada (+31%), India (+26%), Germany (+26%), Spain (+81%), Japan (+49%), New Zealand (+17%), Norway (-13%), Sweden (+3%), UK (+8%), and US (+6%).
Below we describe media coverage that focused on political, economic, cultural, ecological, meteorological and scientific dimensions.
In September, media political and economic connections with climate issues dominated coverage around the world. For example, the month began as many United States (US) Democratic presidential hopefuls pushed out climate plans ahead of a September 4 climate town hall hosted by CNN. Journalists Juana Summers and Ellen Knickmeyer reported, "Five Democratic presidential candidates in the span of 24 hours have released sweeping plans to address climate change, ahead of a series of town halls devoted to the issue. On Wednesday, California Sen. Kamala Harris and South Bend, Indiana, Mayor Pete Buttigieg each unveiled their climate plans. New Jersey Sen. Cory Booker, Massachusetts Sen. Elizabeth Warren and former Obama cabinet member Julián Castro each laid out theirs on Tuesday. The flurry of plans comes ahead of a CNN town hall event on global warming, which 10 Democrats seeking the White House plan to attend. The forums come after liberals had demanded that the Democratic Party focus at least one debate on climate change, but a climate debate resolution was defeated at the Democratic National Committee's summer meeting last month. Many Democrats see climate change as an urgent crisis. The issue is so urgent among Democratic voters that Washington Gov. Jay Inslee made action to limit the worst extremes of climate change the core of his presidential bid. But Inslee dropped out of the presidential race in August after failing to earn a spot in the September primary debate. Inslee would not have been invited to Wednesday's climate change forum, either, having fallen short of the polling criteria. Since he abandoned his presidential bid, a number of candidates including Harris and Warren have embraced parts of the agenda he championed".
Meanwhile Wall Street Journal reporters Chad Day and Tarini Parti wrote, "Four more Democratic presidential candidates have rolled out plans to address climate change through trillions of dollars in government investment and a fundamental overhaul of the American energy economy. Sens. Kamala Harris of California, Cory Booker of New Jersey, Elizabeth Warren of Massachusetts and South Bend, Ind., Mayor Pete Buttigieg—all of whom had previously endorsed the Green New Deal, a sweeping proposal aimed at weaning the U.S. economy off fossil fuels—unveiled detailed plans …"
In early September there was a 7-hour marathon of CNN town halls, featuring ten 2020 Democratic candidates in 40-minute consecutive segments. In contrast to the up to 15 minutes of climate change discussion in the June debate, this dedicated time to the intersectional climate challenge significantly boosted media attention both within the event itself, as well as through media accounts that followed.
Stories abounded. For example, journalist Aamer Madhani from USA Today reported, "There's perhaps no topic that more starkly divides Democratic hopefuls and President Trump than the debate on climate change. Democrats writ large see global warming as an existential crisis, while Trump has dismissed the issue as a Chinese-made "hoax". He has incorrectly suggested wind turbines cause cancer…until this week, global warming has remained largely a backburner issue in an internal Democratic debate that's largely focused on who is best equipped to take on Trump in the general election and whether pursuing Medicare for All is the best way to fix health care in America. That could be changing. Capped with Wednesday's CNN's climate town hall — coming as Hurricane Dorian bears down on the southeastern United States — top Democratic hopefuls this week tried to demonstrate how they would approach turning the tide on global warming should they become the next commander-in-chief".
As another example (among many), New York-based Guardian journalists Emily Holden and Oliver Milman noted, "Democrats vying for president revealed a fundamental split over how aggressively the US should tackle climate change in a seven-hour town hall meeting on Wednesday. Bernie Sanders painted an apocalyptic future wreaked by the climate crisis and pledged to wage war on the fossil fuel industry. A high-energy Elizabeth Warren urged optimism for building a better America and the former vice-president Joe Biden, who has a pitched a more moderate proposal, said he would push other nations to recommit to stronger action".
Then in mid-September the United Nations (UN) General Assembly and dedicated day – the Climate Action Summit – addressing climate policy action further boosted media attention. Among many media accounts, BBC journalist Roger Harrabin commented, "The UN's climate summit has closed amidst cautious praise for its achievements, and bitter condemnation for its failures. On the plus side, more than 60 nations announced they were working on or exploring plans to reduce greenhouse gas to virtually zero. And a similar number said they would definitely boost their climate change ambitions by next year. On the minus side, the campaigner Greta Thunberg blasted leaders for what she called inadequate ambition that risked the future of the young. Germany's pledge, for instance, was described by critics as totally unfit to meet carbon-cutting targets it's already promised. And scientists will warn on Tuesday of alarming changes in the natural world, including melting ice and sea level rise beyond previous projections. So it's possible to describe the UN summit as a cup half-full, or a cup three-quarters empty. That said, there were very clear signs that around the world people are waking up to the threat of an over-heating climate. India, China and the EU say they will deliver tougher carbon-curbing plans in 2020". Read more …