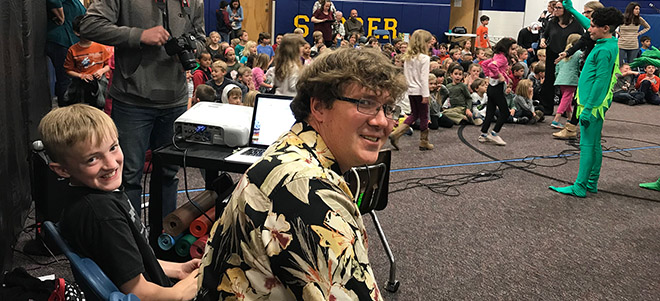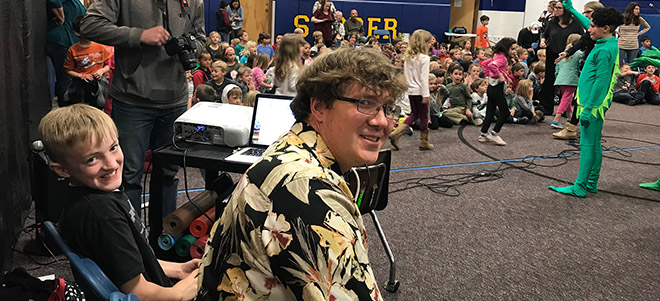 by Patrick Chandler
PhD Student in Environmental Studies Program at University of Colorado Boulder and 2019 winner of the Radford Byerly Award in Science and Technology Policy
Photo: Patrick Chandler during a performance of Inside the Greenhouse's musical for youth engagement, Shine, on Earth Day 2019. Credit: Beth Osnes.
"Are you the artist?" This question followed by others of a similar type such as: "Who's idea was this exhibit/production?" and "Who's the lead on this project?" are some of my least favorite. For the past ten years, I've been working with communities and organizations to bring science and art together to communicate about environmental issues in order to engage observers and promote action. Each project has been a team effort that involved artists, scientists, educators, students, and community members. But somehow, that seems to be an unsatisfying answer to those who ask the questions listed above.
We tend to try and single out individuals, in both good and bad situations, in order to simplify responsibility. When a crime is committed, the question becomes, "Who did this?" rather than "Why did this happen?" The same happens when amazing things occur. Our first inclination is to ask who rather than how and why.
Isolating an individual as a cause simplifies our perception of events and alleviates responsibility. It enables us to say, "That person did something amazing/terrible!" and sets them apart from you and I. Most of us can name 10 individuals that stand out in history with no difficulty but might have trouble naming ten communities that collectively transformed humanity. I think this is because creating these hero/villain stories helps us to believe we don't need to try and be that good (that person is special!) and that we couldn't possibly be that bad (that person is disturbed!). So, what would happen if we abandoned this simplified narrative and embraced the idea that each of us can embody the full spectrum of human potential?
Climate change, plastic pollution, and the underlying causes of both threaten our ability to survive on this planet. But, more often than not, we look to others for solutions rather than confront our own infinite potential. If we are to overcome these global environmental issues, we have to admit that each one of us can have significant impact, and we have a responsibility to actualize our potential. But, not alone. In and with community we can combine our incredible potential to transform systems.
It's time to start asking what we can do "with" instead of what we can do "for." If scientists, artists, and educators ask what they can do in partnership with communities rather than what they can create for them we can begin to form a new vision that brings the head and heart together and motivates action. However, this is easier said than done. It takes a dedicated group of partners, time, resources, and flexibility along with regular work to maintain a partnership to make it happen.
For the past two years, I've been a part of a group of partners from the University of Colorado Boulder (CU) and the Jefferson County School District (JeffCo) who have been working together to pilot a curriculum with students in Jefferson County. Our goal is to develop lessons that bring together art and science in 4th and 5th grade classrooms to address climate change and create a performance that invites the community to work with students to build resiliency.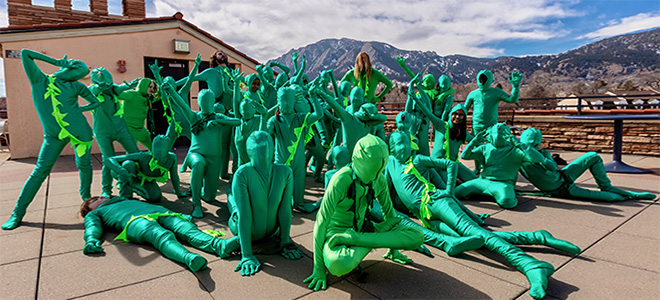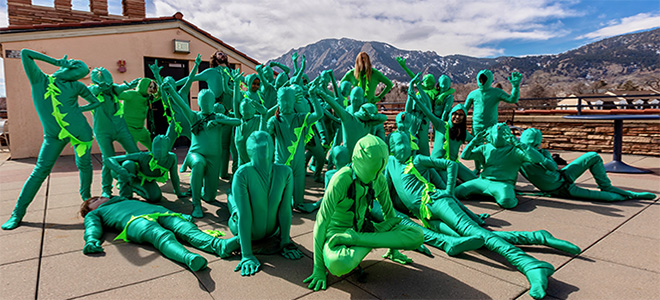 Photo: Students and teachers from Jefferson County Schools during a visit to CU in March 2019. Credit: Lianna Nixon.
Actively involving students in climate change issues while they are still relatively young is important. Research reveals that pessimism about addressing climate change increases with age—particularly from early to late adolescence (Ojala 2012). It is essential to discuss resilience and climate concerns in a positive way. Michale Rohd, author of Theatre for Community Conflict and Dialogue: The Hope is Vital Training Manual writes that, "The act of expression is an act of connection—through it we become positive, active participants in our lives and in our communities" (Rohd 1998). Witnessing youth arts and performance gives adults hope. Engaging youth in solutions-oriented arts regarding resilience and climate change increases their level of hope and positive action. Giving youth a feeling that solutions to climate change are within their control can motivate behavior that benefits families, local community, and the world (Stevenson and Peterson 2016).
There is a need for an effective framework for this type of community-integrated co-production of lessons to promote action. Though each community has specific needs, the process of bringing communities together and designing an art/science project with and not for them has an associated set of best practices. Our hope is that through this project, we can add to the understanding of what creates effective art/science/education partnerships and help actualize the collective potential needed to overcome the immense challenges we currently face as a society by actualizing our collective potential. In doing so, we hope to change the focus to how change happens in communities and the process that enables systems to become sustainable rather than who to single out as a separate and uniquely powerful individual.
References:
Ojala, M., Fakulteten för utbildningsvetenskaper, Humanistisk-samhällsvetenskapliga vetenskapsområdet, Uppsala universitet; Institutionen för pedagogik, didaktik och utbildningsstudier, 2012. Hope and climate change: The importance of hope for pro-environmental engagement among young people, Environmental Education Research, vol. 18, no. 5, pp. 625.
Rohd, M.,1998. Theatre for community, conflict; dialogue: The Hope is Vital training manual, Heinemann, Portsmouth, NH.
Stevenson, K.T., Peterson, M.N. & Bondell, H.D., 2016. The influence of personal beliefs, friends, and family in building climate change concern among adolescents, Environmental Education Research, pp. 1-14.