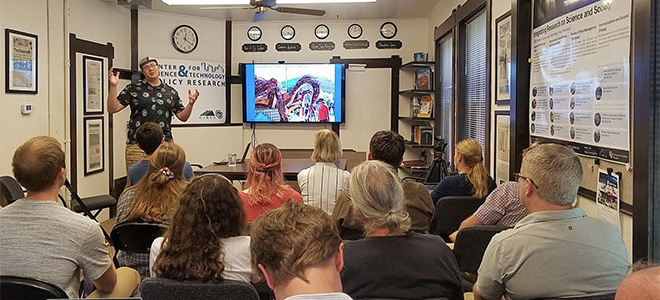 Photo: Patrick Chandler giving a talk at the Center for Science and Technology Policy Research on September 25, 2019. Credit: Jeremiah Osborne-Gowey.
Today, Patrick Chandler, PhD student in Environmental Studies at CU Boulder and the 2019 Winner of the Radford Byerly Award in Science and Technology Policy gave a talk at our Center about how increasing science literacy and finding innovative methods to bridge communication barriers that surround environmental issues is a vital step in making progress on climate change. He spoke about how this work cannot stop with awareness but that we must provide pathways to action and support citizens in civic engagement. Combining art and science creates unique opportunities for doing this work. Patrick expanded the talk to discuss his recent art/science integration projects, methodologies, and community impact. His talk is now viewable on our website.
At this talk today, Cal Brackin, master illustrator and founder of On Board Innovations created the illustration below encapsulating Patrick's talk.