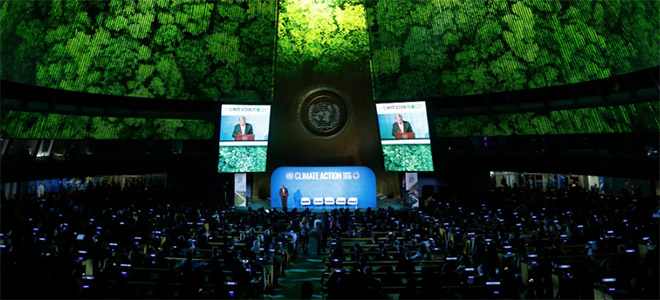 ABC 6 On Your Side
by Stephen Loiaconi
Teen climate activist Greta Thunberg lectured world leaders Monday on their failure to address the threat of climate change, days after she and others led millions of protesters in a global strike to raise awareness of the issue.
But environmentalists still face an uphill climb to spur the dramatic changes they say are necessary to save the planet from rising temperatures.
"This is all wrong. I shouldn't be standing here," Thunberg, 16, told representatives from more than 60 countries at the U.N. Climate Action Summit in New York. "I should be back in school on the other side of the ocean. Yet you all come to me for hope? How dare you! You have stolen my dreams and my childhood with your empty words."
The Swedish teen spoke during an event one U.N. official hyped as a pivotal moment for the global battle against climate change.

"We can use this summit as a slingshot toward further agreements that need to be reached in the climate negotiations, at the end of this year and at the end of 2020," Rachel Kyte, special representative for sustainable energy, told ABC News.
U.N. Secretary-General Antonio Guterres convened the session to advocate for more ambitious commitments from signatories to the 2015 Paris Agreement ahead of climate negotiations set for next year. Promises to reduce greenhouse gas emissions made four years ago fall far short of what experts say will be required in the decades ahead to avert the most damaging effects of climate change.
"Don't come to the summit with beautiful speeches," Guterres said last month. "Come with concrete plans … and strategies for carbon neutrality by 2050."
Thunberg was even more direct, accusing the world's governments of betraying future generations by ignoring established science and setting insufficient goals for emissions cuts.
"You say you 'hear' us and that you understand the urgency," she said Monday. "But no matter how sad and angry I am, I don't want to believe that. Because if you fully understood the situation and still kept on failing to act, then you would be evil. And I refuse to believe that."
Thunberg is also one of 16 petitioners in a legal complaint filed Monday with the United Nations Committee on the Rights of the Child alleging Argentina, Brazil, France, Germany, and Turkey failed to curb emissions despite knowing for decades about the risks of climate change.

"The climate crisis is a children's rights crisis," said Scott Gilmore, a human rights lawyer at Hausfeld, the law firm representing the petitioners. "The current path of global warming will leave today's children with an unlivable world."
Monday's events followed a weekend of high-profile climate activism with millions of protesters in cities around the world calling for a more aggressive response to climate change. Scientists say humans must limit temperature increases to 1.5 degrees Celsius by 2100, and that could require cuts in emissions three to five times larger than current commitments.
The U.N. also held its first Youth Climate Summit Saturday for activists between 18 and 29 years old. Britt Groosman, vice president of global climate at the Environmental Defense Fund, argued the passion of a new generation of leaders like Thunberg could change the climate debate.
"As global leaders, nonprofits and corporations convene for climate talks, there is an inescapable movement underway, fueled by youthful determination to change the course of our future," Groosman wrote in a blog post.
Experts who study environmental activism say the worldwide protests Friday made a significant statement and called new attention to the cause, but no one protest event is going to shift the views of the public or policymakers about climate change.
"I think it is one pathway that increases public pressure for policy action," said Max Boykoff, author of "Creative (Climate) Communications" and director of the Center for Science and Technology Policy Research at the University of Colorado Boulder. "It certainly isn't going to be a silver bullet if you will. Rather, it's one more piece of silver buckshot." Read more …