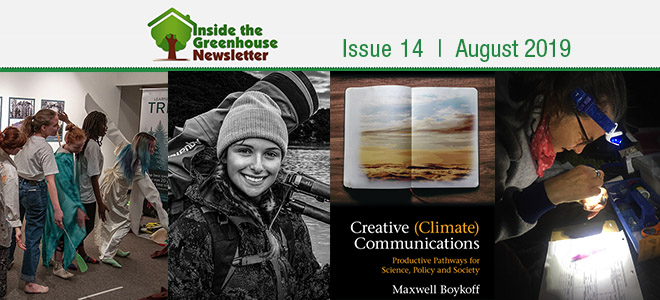 Issue 14 | August 2019
Subscribe to ITG Newsletters
This summer has been hot; our work Inside the Greenhouse has continued to heat up as well.
We are happy to share with you another update regarding our ongoing efforts in the spaces of research, teaching and engagement in the spaces of creative climate communications in the public sphere.
In newsletter #14, we share some highlights of our many ongoing activities. Visit our website for further details and more information. We continue to carry out these projects through wonderful collaborations and partnerships linking campus and community as well as the local with the global.
Please don't forget that your support is vital to our ongoing efforts. Please visit the Inside the Greenhouse Gift Fund to provide a tax-deductible gift. We are grateful for contributions in any amount. Read more …