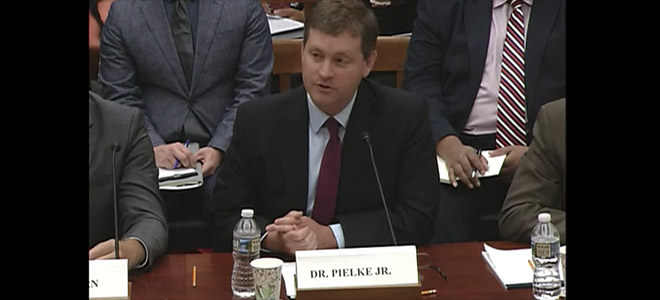 Founding CSTPR Director, Roger Pielke, Jr., testified before the House Science Committee hearing on Scientific Integrity in federal agencies.
His testimony focuses on the importance of scientific integrity policies within federal agencies that fund, conduct, or oversee research and the current status of these policies. In an appendix Pielke offers specific comments on H.R. 1709, the Scientific Integrity Act. His testimony is dedicated to the memory of Radford Byerly, Jr., 1936-2016, who was a staff member of the House Committee on Science, Space and Technology from 1978-1987 and from 1991-1993 served as the committee's staff director.
Four Take-Home Points
Scientific integrity legislation is important and necessary. Careful attention is needed to ensure that such legislation integrates well with existing, related policies;
It is essential to distinguish science advice from policy advice, and both types of advice should fall under scientific integrity policies;
Individual researchers and studies are essential to the process of science, but science best guides and informs policy when it has been assessed by scientific advisory bodies to characterize the current state of knowledge on a particular topic or to present possible policy options – including perspectives on uncertainties, disagreements, areas of ignorance;
Good science and policy advice from experts also results from the upholding of scientific integrity by elected and appointed officials.