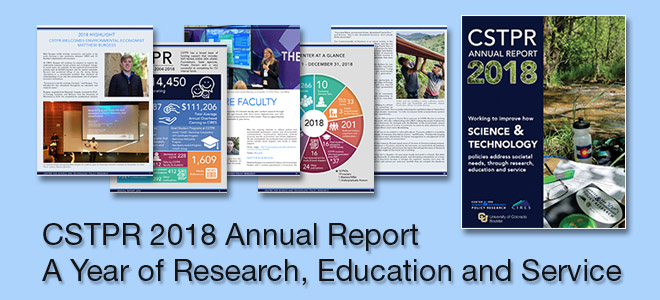 January 1 – December 31, 2018
Full Annual Report [pdf]
The Center for Science and Technology Policy Research (CSTPR) was initiated within the Cooperative Institute for Research in Environmental Sciences (CIRES) at the University of Colorado-Boulder in the summer of 2001 and was recognized as an official University center in the summer of 2002 to conduct research, education, and outreach at the interface of science, technology, and the needs of decision makers in public and private settings. Our long-term vision is to "serve as a resource for science and technology decision makers and those providing the education of future decision makers." Our mission is to improve how science and technology policies address societal needs, including research, education and service.
The following report includes CSTPR highlights from 2018 as well as a complete list of activities. Also included are selected activities of CSTPR faculty affiliates as an indication (not exhaustive accounting) of what those affiliates engage in.
Looking across the past calendar year 2018, I am proud that we here in the Center for Science and Technology Policy Research (CSTPR) have been working mindfully and effectively to help confront these urgent and opportune times at the intersections of science, technology, policy, culture and society. As one of four centers in the Cooperative Institute for Research in Environmental Sciences, through research conducted by members of our CSTPR community, we have continued to productively inform connections between and among these pressing, critical and interdisciplinary spaces.
Among highlights you'll read in our 2018 Annual Report, I point out three particular bright spots:
in Fall 2018, we welcomed Dr. Matt Burgess to CSTPR: Matt has taken up a role as CSTPR Core Faculty along with his responsibilities as CIRES Fellow and Assistant Professor in Environmental Studies and Economics; Matt brings energy and strengths to investigations of global sustainability and relations with species conservation as well as natural resource management (see pages 7-8 for more)
in 2018 we graduated six students associated with CSTPR (three PhD students, two Master's students and one undergraduate student): their successful matriculation (and next chapters in the workforce) show our ongoing traditions and commitments of training the next generation of science-policy scholars and practitioners (see pages 21-24 for more)
integrated research projects continued to grow and thrive in CSTPR in 2018 (see pages 11-18 for more), these projects cut across themes of Drivers of Risk Management Decisions, Innovations in Governance and Sustainability, and Science and Technology Policy that we have prioritized through strategic planning over the past few years
Over the past sixteen years or so as a Center, we have cultivated a dynamic terrain of engagement. Among our activities and accomplishments, we have published over four hundred peer-reviewed articles, nearly another four hundred other reports and publications, and we have generated over $14 million in funding. We also have been referenced in the media over 1,600 times while we have delivered over 800 talks in the state of Colorado, around the country and throughout the world. Now in 2019, we recognize that the arenas of Science and Technology Policy Research have continued to develop from our initial beginnings as a Center. We – as a community of core faculty, affiliates, students, and staff – continue to nimbly and ambitiously shape and adapt to these changes as we rigorously deploy both 'the hatchet' as critique and 'the seed' as emancipatory research to trigger innovations and improvements in our confrontations at the human-environment interface.
As we continue to invest in our collective futures, we welcome you to engage with us through a number of touch points described in the report that follows.
Max Boykoff, Director
Annual Report [pdf]