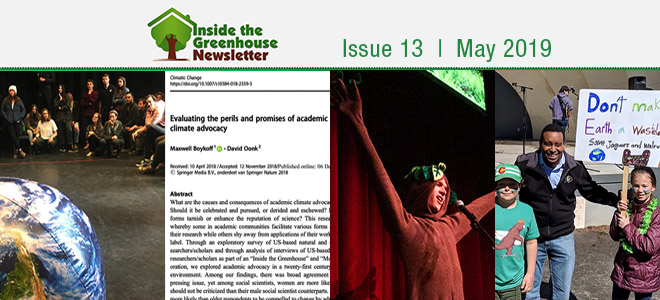 Issue 13 | May 2019
Subscribe to ITG Newsletters
We are excited to share with you another update regarding our ongoing efforts in the spaces of research, teaching and engagement in the public sphere. In newsletter #13, we share a sampling of our many ongoing activities.
As a key dimension of our ongoing efforts, we continue to work with University of Colorado (CU) students as we all deepen our understanding of how to effectively address issues associated with climate change. In the Spring semester that has just wrapped up, we worked with 84 students across three classes.
Beth Osnes and Max Boykoff led the 'Creative Climate Communications' course and worked with students to communicate about sustainable fashion, and to explore new communication pathways through humor and comedy;
in the 'Art of Science Communication' course led by Rebecca Safran (with Erin Shauster), students pressed forward in building skills in visual storytelling, branding and translation of scientific ways of knowing and learning;
in the 'Environmental Communication' course, Phaedra Pezzullo led students through examinations of historical events, key concepts, legal landmarks, and technological developments at the intersection of the environment, economics, and social justice.
In this critical period of time, we at Inside the Greenhouse remain committed to creative work to meet people where they are and to help make sense of 21st century climate challenges.
Your support is critical as we continue to carry out these projects, linking campus and community as well as the local with the global. Please visit the Inside the Greenhouse Gift Fund to provide a tax-deductible gift. Any amount helps. Read more …