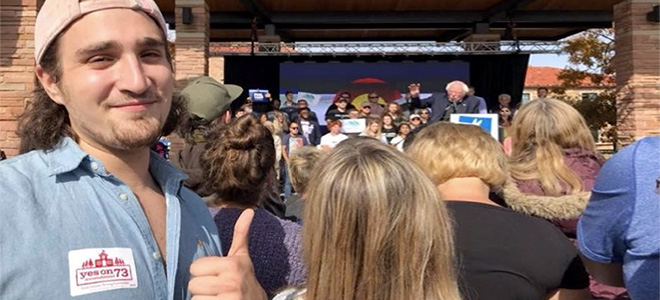 After recently becoming co-chair of the University of Colorado Boulder's Climate Reality Project, sophomore Mike Jacobs is achieving his childhood dream of becoming a superhero through environmental activism.
The Climate Reality Project is a club dedicated to achieving environmental policy reform on the CU Boulder campus through activism. It was started with the help of Administrative and Political Liaison Emilie Craig, who insisted on having Jacobs on board after taking Introduction to Environmental Studies with him.
"I knew I couldn't do it alone," Craig said. "I knew I needed all the help I could get, and I needed [Jacobs] to help me because [he] really inspired me to change my own personal lifestyle."
Jacobs, who had been working with the local Boulder chapter of Earth Guardians, was eager to take on The Climate Reality Project and take "a more collegiate approach to the problem."
Jacobs says that comic books inspired him as a child to dedicate himself to advocating for others.
"I've always looked up to superheroes as idols," Jacobs said. "There's nothing more powerful than helping another person."
Jacobs' most recent endeavor was the Youth Climate Strike on Friday, March 15. The strike saw members of both the Climate Reality Project and Earth Guardians push CU to pledge to transition to 100 percent renewable electricity by the year 2030, "to ensure that we youth will have a stable and healthy future and economy," Craig said.
"CU Boulder has not yet committed, but CSU has committed to 100 percent renewable [energy] by 2030, the entire University of California system has committed to carbon neutrality by 2025, and CU is in the capital of renewable energies here in Boulder," Craig said. "We should be at the forefront of the renewables movement."
The strike was attended by several politicians and CU administrators, all of whom listened to Jacobs and other activists speak at the event.
Before the strike, Jacobs saw politicians as "so esoteric" and "the gods of society." Getting them to listen to him felt like an impossible task. Jacobs wants those who feel discouraged from getting involved in activism, however, to stop underestimating their power.
"They came and they listened to me," Jacobs said. "The more that we as activists start making our voice be heard, the more they listen."
Another goal of the Climate Reality Project, Jacobs said, is to encourage young people to lobby.
"These are our legislators," Jacobs said. "They serve us. You can go into their office and lobby for whatever you want. Probably these legislators have never seen a college student come in. I'm sure there have been a couple in history, but nothing compared to the amount of retired people or the amount of oil and gas lobbyists."
According to Jacobs, young people should become involved in the climate change fight because "it's not our next generation, it's us."
Craig agrees that youth activism is essential to the climate fight.
"We are the future, you know?" Craig said. "We have an unbelievable amount of power and voice in this democracy. We're so lucky to have a democracy, but youth are not going to be heard unless they speak out."
Jacobs had postponed his college career to advocate for climate change policy, but is now working towards his degree in order to have a stronger voice in the climate change fight.
"Balance is always a challenge but [Jacobs'] integration is admirable," Max Boykoff, associate professor and director of the Center for Science and Technology Policy said. Jacobs took Introduction to Environmental Studies with Boykoff.
"From the beginning [of the class], he showed purpose and determination to learn as much as he could and to immediately apply it to real-world challenges," Boykoff said. "He seems to be moving purposefully in the world and that is something to value."
While moving with purpose, Jacobs still sees that there's a need for urgency.
"Time is running out," Jacobs said. "Climate change is upon us, and I just feel like the sooner I get that degree, the sooner … I have way more authority in this world." Read more …