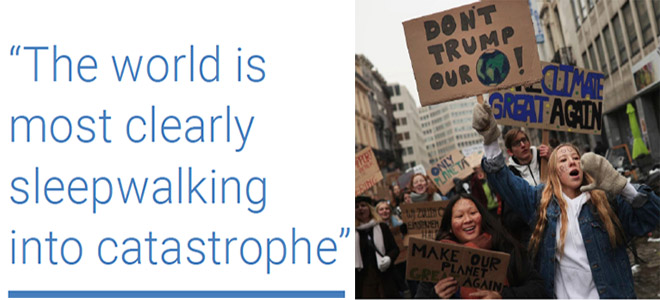 Media and Climate Change Observatory (MeCCO)
January 2019 Summary
January media attention to climate change and global warming was down 20% throughout the world from the previous month of December 2018, but up just over 15% from January 2018.
While African coverage was up 21% from the previous month, it was down in all other regions, including North America where coverage was down 10% in January compared to the previous month of December 2018.
Figure 1 shows increases and decreases in newspaper media coverage at the global scale – organized into seven geographical regions around the world – over the past 181 months (from January 2004 through January 2019).
This month we introduce media monitoring of Public Broadcasting Services on United States television and additional monitoring across four wire services: The Associated Press, Agence France Press (AFP), The Canadian Press, and United Press International (UPI). We at the Media and Climate Change Observatory (MeCCO) now monitor sixty-six newspaper sources, six radio sources and seven television sources spanning thirty-nine countries with segments and articles in English, Spanish, German and Portuguese. In addition to English-language searches of 'climate change' or 'global warming', we now conduct searches of Spanish-language sources through the terms 'cambio climático' or 'calentamiento global', and commenced with searches of German-language sources through the terms 'klimawandel' or 'globale erwärmung' as well as Portuguese-language sources through the terms 'mudanças climáticas' or 'aquecimento global'.
Moving to considerations of content within these searches, Figure 3 shows word frequency data in Indian newspaper media coverage in January 2019.
In January, considerable attention was paid to political and economic content of coverage. Prominently, the movements of newly elected Brazilian President Jair Bolsonaro captured media attention. From his inauguration in January, coverage focused on his efforts to commodify ecosystem services in the country. For example, Bolsonaro immediately sought to cede control of indigenous lands to agribusiness. Journalist Marina Lopes from The Washington Post reported that "Brazil's new right-wing president opened the door Wednesday for more potential development and tree-clearing in the Amazon rain forest, giving the Agriculture Ministry oversight over which lands are granted protected status. The move by Jair Bolsonaro — in one of his first acts since his inauguration Tuesday — is seen as a victory for Brazil's powerful rural lobby, which has long sought access to protected lands for logging, farming and other projects. It also signaled the apparent start of a new era of sweeping deregulation in Brazil, a country once lauded for its strides in environmental protection — including its stewardship of the world's largest rain forest. Bolsonaro, a former army captain who was backed by the rural lobby, supports greater development of the Amazon, the assimilation of indigenous groups and reduction of environmental regulation".
In Europe, some coverage focused on a continuing trend toward decarbonization and electric transportation. For example, media focused on Germany's announced plans in January to phase out all of its coal-fired power plants over the next two decades. In addition to abundant media attention in the German press, journalist Erik Kirschbaum from the Los Angeles Times reported, "the announcement marked a significant shift for Europe's largest country — a nation that had long been a leader on cutting CO2 emissions before turning into a laggard in recent years and badly missing its reduction targets. Coal plants account for 40% of Germany's electricity, itself a reduction from recent years when coal dominated power production". As another example, coverage noted record-setting electric vehicle sales in 2018. Journalists Camilla Knudson and Alister Doyle commented, "Almost a third of new cars sold in Norway last year were pure electric, a new world record as the country strives to end sales of fossil-fueled vehicles by 2025… The independent Norwegian Road Federation (NRF) said on Wednesday that electric cars rose to 31.2 percent of all sales last year, from 20.8 percent in 2017 and just 5.5 percent in 2013, while sales of petrol and diesel cars plunged".
Meanwhile, the annual survey of global threats was released at the mid-January annual World Economic Forum. The survey showed climate change jump up the charts of concern, noting "of all risks, it's in relation to the environment that the world is most clearly sleepwalking into catastrophe". Journalist Joanna Sugdan from The Wall Street Journal reported, "The threat of a full-blown global trade war and rising political tensions between world powers are the dominant global risks, according to a report by the World Economic Forum ahead of its annual gathering in Davos, Switzerland, next week. Cyberattacks and climate change also feature high on the list of potential hazards drawn up from a survey of around 1,000 lawmakers, academics and business leaders for the group that organizes the Davos meeting". Meanwhile, Guardian economics editor Larry Elliot wrote, "Growing tension between the world's major powers is the most urgent global risk and makes it harder to mobilise collective action to tackle climate change, according to a report prepared for next week's World Economic Forum in Davos, Switzerland. The WEF's annual global risks report found that a year of extreme weather-related events meant environmental issues topped the list of concerns in a survey of around 1,000 experts and decision-makers". Read more …