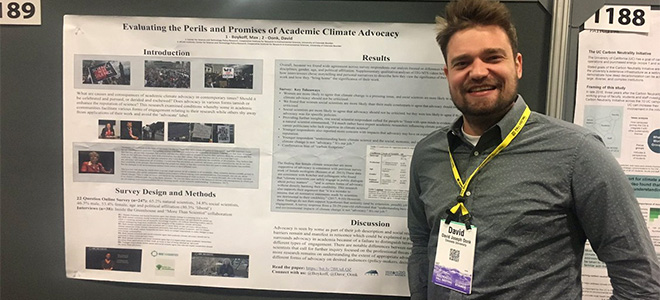 by David Oonk, PhD Candidate
ATLAS Institute and Center for Science and Technology Policy Research
University of Colorado Boulder
The research that I presented provided some background and highlighted academic climate scientists varying concerns and perspectives on advocacy. The majority of conversations at my poster were with geo-scientists eager to learn more about how and when they should engage in advocacy for their science and its policy implications. One individual expressed optimism that their colleagues' views on advocacy are shifting and their community is now more engaged and involved. Another individual said that the 2016 election really changed their view on scientists advocating and motivated them to get involved.
The work that I presented and the conversations I had at the poster session aligned with larger general impressions I had at the 2018 AGU Meeting. I found that many of the presentations and posters engaged deeply with the societal relevance and policy implications of their work. Being in DC, many of the sessions were centered on the science policy nexus and how geo-scientist can get involved. These were just examples of a undercurrent at the conference, one where scientists were critically questioning their role in decision-making and policy-making as they faced a horizon where they must engage directly in solving society's most pressing problems.