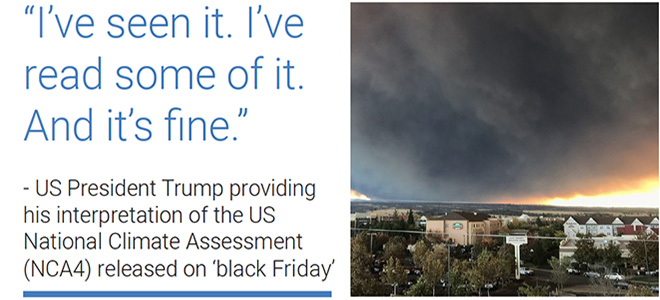 Media and Climate Change Observatory (MeCCO)
November 2018 Summary
November media attention to climate change and global warming was down 8% throughout the world from October 2018, and up about 33% from November last year. Radio coverage held steady from October 2018 but was up 27% from November 2017. Across all sources, regionally an increase was detected in Europe (up 11%). Elsewhere, moderate decreases from October to November 2018 were found in North America (down 8%), Asia (down 14%) and Central/South America (down 17%), while more substantial downturns in the quantity of coverage were found in the Middle East (down 21%), Oceania (down 34%) and Africa (down 39%).
In January of this year, MeCCO expanded coverage to sixty-two newspaper sources, six radio sources and six television sources. These span across thirty-eight countries, in English, Spanish, German and Portuguese. In addition to English-language searches of "climate change" or "global warming", we search Spanish-language sources through the terms "cambio climático" or "calentamiento global", German-language sources through the terms 'klimawandel' or 'globale erwärmung', and Portuguese-language sources through the terms "mudanças climáticas" or "aquecimento global". Figure 1 shows these ebbs and flows in newspaper media coverage at the global scale – organized into seven geographical regions around the world – over the past 179 months (from January 2004 through November 2018).
At the country level, counts held steady or decreased from October to November 2018, except for in Spain where coverage was up 22%. In the United States, print coverage was down 5% in November compared to October, though still up considerably from the previous November 2017. However, US television coverage of climate change spiked in November 2018, as it was up 71% from October 2018 and also up considerably from coverage a year ago (November 2017).
Moving to considerations of content within these searches, Figure 2 shows word frequency data in the US television media coverage in November 2018. While US TV coverage was up to its highest levels since December 2016, television media attention appeared to be driven by stories relating to President Trump rather than other stories like the US National Climate Assessment (NCA4) released on November 23 (see below for more). In US television coverage of climate change or global warming in November 2018, 'Trump' was explicitly invoked over fourteen times more frequently than the words 'science' or 'scientists' together and nearly four times more frequently than the word 'climate' itself, for examples.
In November, considerable attention was paid to scientific dimensions of climate change and global warming. For example, a new study published in Nature found that global oceans have been absorbing more heat than previously understood. This buffer to atmospheric warming was then noted, as oceans have warmed more than the IPCC previously estimated over the past twenty-five years. Journalist Matt McGrath from the BBC reported " this new study says that every year, for the past 25 years, we have put about 150 times the amount of energy used to generate electricity globally into the seas – 60% more than previous estimates".
A second example arose in early November through media coverage of the simultaneous release of two studies in Nature examining interactions between human activities and hurricane impacts. While one study noted increased rainfall by hurricanes Katrina, Maria and Irma through anthropogenic climate change, the second study predicted that future hurricanes will increase in intensity due to human contributions to climate change. Journalist Seth Borenstein from the Associated Press wrote, "Hurricane Harvey snagged on the skyscrapers of Houston, causing it to slow and dump more rain than it normally would, one study found. The city's massive amounts of paving had an even bigger impact by reducing drainage. Land development in the metro area, on average, increased the chances of extreme flooding by 21 times, study authors said. A second study looked at last year's major Hurricanes Maria and Irma and 2005′s deadly Katrina and used computer simulations to see what would have happened if there had been no human-caused global warming. The study found that climate change significantly increased rainfall from those three storms, but did not boost their wind speed." Meanwhile, journalist Rebecca Hersher from National Public Radio reported, "A pair of studies published today in the journal Nature find that hurricanes are already causing more rain than they used to, and that cities themselves may be making the rainfall from those storms even worse".
As a third example, in mid-November a new study published in Nature Climate Change found "traceable evidence for 467 pathways by which human health, water, food, economy, infrastructure and security have been recently impacted by climate hazards such as warming, heatwaves, precipitation, drought, floods, fires, storms, sea-level rise and changes in natural land cover and ocean chemistry". Journalist Maggie Fox from NBC News reported that lead author Camilo Mora and team "combed through more than 3,200 studies to try to paint a broad picture of what climate change is going to do to people over the coming century. They cross-referenced their findings against known disasters". USA Today journalist Doyle Rice wrote, "Don't say we weren't warned. From human health to the world's food supply, from water scarcity to widespread migration and violence, the threats from climate change are much larger than previously thought, a study released Monday suggests. And in many places, several threats will be happening at once".
As a fourth example, a new University of Chicago report released in mid-November articulated that particulate pollution from fossil fuel burning effectively has shortened life spans by over four years for an average Indian and nearly three years for a typical denizen in China. Washington Post journalists Bonnie Berkowitz, John Muyskens, Manas Sharma and Monica Ulmanu reported that lead author Michael Greenstone credited the 1970 US Clean Air Act for many avoided deaths from air pollution in the United States, and noted that it was why "wildfires in California triggered air quality alerts and forced school closings many miles away".
But the most prominent example in November 2018 was the Fourth US National Climate Assessment (NCA4) that was released the day after Thanksgiving, colloquially dubbed 'black Friday' and a decidedly slow news day when many citizens are busy expressing their identity as consumers. This peer-reviewed report co-authored by 300 relevant expert researchers noted that climate change will continue to impact millions of people across the US and cost billions of dollars in damage. Journalist Tony Barbosa from the Los Angeles Times wrote, "The congressionally mandated report by 13 federal agencies, the first of its kind under the Trump administration, found that climate change is already being felt in communities across the United States. It projects widespread and growing devastation as increasing temperatures, rising sea levels, worsening wildfires, more intense storms and other cascading effects harm our ecosystems, infrastructure and society". Meanwhile, journalist Steve Frank from CBS News reported, "Earth's climate is now changing faster than at any point in the history of modern civilization, primarily as a result of human activities, according to a long-awaited report released Friday by the federal government". And a significant amount of news organizations – such as The Associated Press, Reuters, USA Today, The Guardian, BBC and The Washington Post – covered US President Trump's reaction to the report. For example, journalist Rebecca Ballhaus from The Wall Street Journal reported, "President Trump said Monday that he doesn't believe the central finding of a report released last week by his administration that global climate change could cause U.S. economic losses of hundreds of billions of dollars a year by the end of the century. Speaking to reporters before leaving Washington for Mississippi, Mr. Trump said of the report, "I've seen it. I've read some of it. And it's fine." Asked if he agreed with the report's assessment of a large economic impact, he responded: "I don't believe it"." Read more …