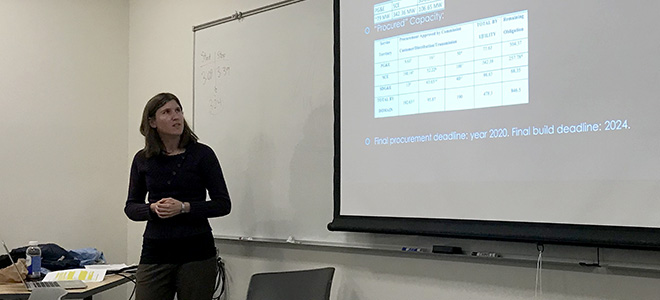 CSTPR graduate student Emily Ruby has successfully completed her Master's Thesis in Environmental Studies at University of Colorado Boulder. Her title of her thesis us "Analysis of California's Formative Energy Storage Policy" and was advised by CSTPR's Max Boykoff and NREL's Suzanne Tegen.
Thesis Summary: Energy storage technologies hold the potential to allow further penetration of clean renewable energy sources onto the grid, decarbonizing the energy supply. Supportive policies at the state or national level can encourage the implementation of energy storage. This thesis investigates the impact of California's pivotal energy storage policy, AB 2514 the Skinner Bill of 2010. Results of this investigation (with data collected from interviews and other sources) indicate that this policy was a success. Although the bill's effects are still ongoing, progress is being made towards procurement and other goals. In the future if other states desire to create their own energy storage policies, traits from the Skinner Bill can act as a framework. Factors such as policy cost-effectiveness and flexibility; governance and energy market environments; and co-occurrence of renewable energy sources can influence a policy's success. Energy, greenhouse gas, and monetary savings are also markers of efficacy.
Congratulations Emily!