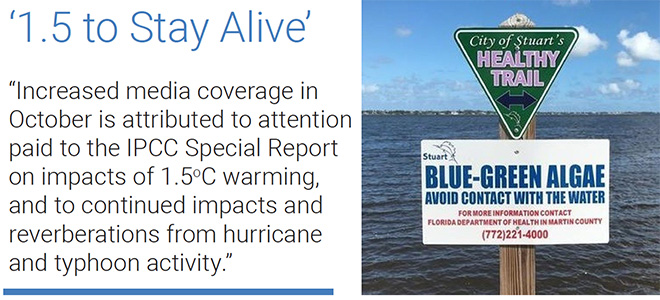 Media and Climate Change Observatory (MeCCO)
October 2018 Summary
October media attention to climate change and global warming was up 43% throughout the world from the previous month of September 2018, and more than doubled (up 51%) from October last year. Upticks were detected across all regions of the world in October. Increased media coverage in October is attributed to attention paid to the United Nations (UN) Intergovernmental Panel on Climate Change (IPCC) Special Report on impacts of 1.5°C warming, and to continued impacts and reverberations from hurricane and typhoon activity. An increase was most pronounced in Africa (up 79%) and Oceania (up 76%). Elsewhere, increases were also detected in Central/South America (up 40%), North America (up 37%), Asia (up 24%) and Europe (up 43%), compared to the previous month of September.
In January of this year, MeCCO expanded coverage to sixty-two newspaper sources, six radio sources and six television sources. These span across thirty-eight countries, in English, Spanish, German and Portuguese. In addition to English-language searches of "climate change" or "global warming", we search Spanish-language sources through the terms "cambio climático" or "calentamiento global", German-language sources through the terms 'klimawandel' or 'globale erwärmung', and Portuguese-language sources through the terms "mudanças climáticas" or "aquecimento global". Figure 1 shows these ebbs and flows in newspaper media coverage at the global scale – organized into seven geographical regions around the world – over the past 178 months (from January 2004 through October 2018).
Moving to considerations of content within these searches, Figure 2 shows word frequency data in the dynamic spaces of US newspaper and television media coverage in October 2018.
In October, considerable attention was paid to political content of coverage. The lead up to the 2018 US elections on November 6 have had some bearing on coverage. For example, in an article titled 'As climate change becomes more visible, its weight as a campaign issue is growing' journalist Evan Halper from the Los Angeles Times wrote, "for years, conventional wisdom among political strategists has labeled climate change as a politically weak issue, a concern of environmental activists but not the mass of voters. That's still the case in many areas. But in districts around the country where warming is exacerbating natural disasters and disrupting regional economies, the anxiety of voters like Hardwick has started to shift how candidates campaign". Meanwhile, in Canada in October, the government announced that they will impose carbon taxes on provinces that fail to create their own policies. The Prime Minister announced that the funds generated in Ontario, Manitoba, Saskatchewan and New Brunswick, will go back to the taxpayers. Reuters journalist David Rjunggren reported on this effort at the Canadian federal level, and this story ran in many other outlets throughout the country and beyond. He wrote, "Canadian Prime Minister Justin Trudeau on Tuesday said he would fulfill a promise to impose a carbon tax on provinces unwilling to combat climate change, prompting instant protests from a voter-rich part of the country. Trudeau, whose ruling Liberals face an election in October 2019, told a news conference that all the money collected would be returned directly to taxpayers in the four provinces without plans to curb the emission of greenhouse gases. Starting in April 2019 carbon pollution will initially cost C$20 ($15.27) a tonne, rising by C$10 a year until it reaches C$50 in 2022. Ottawa unveiled the proposal in 2016".
At the science-policy interface, an early October UN IPCC meeting in South Korea – and consequent Special Report on impacts of 1.5°C warming – garnered a great deal of media attention. Media coverage focus on the IPCC Special Report warning that to avoid passing 1.5°C, emissions must drop 45% from 2010 levels by 2030, and must reach 'net zero' by 2050. These pronouncements also harkened back to a slogan promoted by vulnerable countries at the Paris talks in 2015: '1.5 to stay alive'. This was a reference to the bold emissions reductions needed to avoid the worst impacts of climate change. BBC journalist Matt McGrath reported on how delegates gathered in Incheon, South Korea "to hammer out a plan in co-operation with government delegates, on the actions that would need to be taken to meet this [1.5°C] goal". Amid considerable coverage of this report, Wall Street Journal reporter Timothy Puko wrote, "rapid, far-reaching changes to almost every facet of society are needed to avoid catastrophic climate change, reforms far beyond anything governments are currently either doing or planning to do, according to a report from a United Nations-led scientific panel". Journalist Doyle Rice from USA Today reported, " the world's economies must quickly reduce fossil fuel use while at the same time dramatically increasing use of clean, efficient energy. These transitions must start now and be well underway in the next 20 years". Read more …