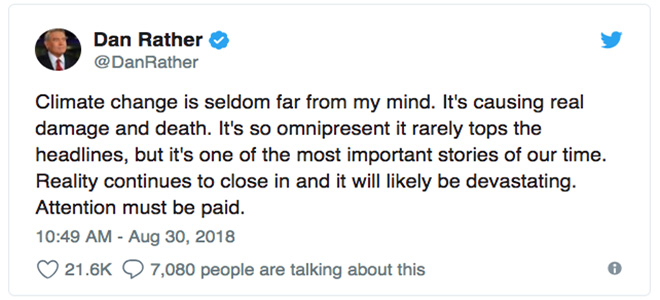 The Daily Caller
August 30, 2018
News anchor Dan Rather said global warming is "causing real damage and death" in a tweet excoriating the media for supposedly ignoring "one of the most important stories of our time."
But is it really true that global warming "rarely tops the headlines"? Not really.
Liberal journalists routinely complain that global warming coverage has been "siloed" or marginalized. More recently, The New Republic's Emily Atkin said news outlets needed to connect every extreme weather event — in that case wildfires — global warming.
NRP and MSNBC anchor Chris Hayes were forced to defend their supposed lack of global warming coverage. Hayes said global warming segments had been a "palpable ratings killer" as a reason he didn't do them very often. However, just because large networks didn't focus much on global warming, since they're driven by ratings, that doesn't mean mountains of climate coverage isn't generated every year.
Northeastern University professor Matthew Nisbet took issue with Atkin's claim of climate coverage being "siloed." He pointed to data showing thousands of articles written by just five major U.S. newspapers.
Thousands of articles have been written on the topic, including 252 articles from The New York Times alone in July 2018, according to University of Colorado researchers. Nisbet cited these figures.
And those figures likely don't include the digital-only articles written at The Washington Post and other papers tracked by university researchers. Type "climate change" into your google browser, go to the "news" section and you'll get 81.5 million results.
Here are the figures from University of Colorado researchers. Read more …