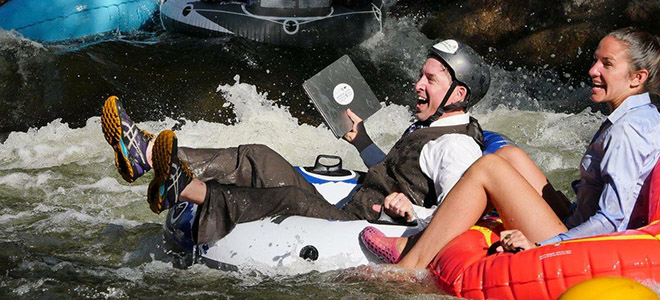 by Abigail Ahlert
CSTPR Science Writer
Boulder Creek is an iconic and vital Colorado waterway. Weaving through Boulder Canyon and into the city, the creek provides abundant opportunities for outdoor recreation. One of the most popular events on Boulder Creek is Tube to Work Day, which is billed as "Colorado's premier aquatic mass transit". This year's Tube to Work Day, taking place on Wednesday, July 11th, celebrates 11 years of tube commuting on Boulder Creek.
It only takes a quick trip to the creek (or a viewing of some fun Tube to Work Day videos) to show that most of Boulder Creek isn't exactly a lazy river. High, swift water can make activities on Boulder Creek adventurous, and sometimes even hazardous. In early June, a man tubing found himself stranded on a rock, unable to move through the rushing water to safety. The Boulder County sheriff's office and numerous other rescue groups were called to the scene and successfully helped the man to shore.
While activities in Boulder Creek can be risky, understanding the streamflow can help minimize risk and maximize fun for those seeking aquatic adventures. Streamflow—the amount of flowing water—can vary greatly in Boulder Creek due to snowmelt, heavy rains or drought. One useful resource is the online "Rocky Mountains-High Plains Climate Dashboard", hosted by the University of Colorado Boulder's Western Water Assessment. The dashboard links to multiple resources on streamflow, temperature, snowpack and drought in the Rockies. The streamflow information is part of the U.S. Geological Survey (USGS) National Water Information System, which collects data from river sites around the country every 15-60 minutes.
Jeff Kagan, one of the founders and organizers of Tube to Work Day, uses the National Water Information System to plan the annual event. Kagan checks the website regularly in the three months leading up to Tube to Work Day. This way, the organizers can set a date for when they expect stream flows in Boulder Creek to be good for tubing. "It's hard to time it perfectly, especially since flows can't be controlled," Kagan says. "Too big and it's cold and downright dangerous, too low and there's a lot of scraping tush and bruised knees, not to mention people who work in East Boulder won't make it into the office until 11 am. It's really a matter of assessing snowpack and looking at flow data from years past."
Streamflow is commonly measured in cubic feet per second (cfs)—one cubic foot per second means that almost 7.5 gallons of water are flowing each second. Kagan says the ideal streamflow for Tube to Work Day is between 150-200 cfs. That's between 1100-1500 gallons of water rushing down Boulder Canyon per second, carrying commuters on their merry way. Kagan says that if the streamflow is ever over 300 cfs on Tube to Work Day, the event will be postponed. That doesn't seem to be a problem this year—the streamflow is reaching its peak earlier than usual, which means that water levels may actually be on the low end by July 11th, particularly between Eben G. Fine Park and Broadway. Kagan expects that the Boulder Creek streamflow will strike "a nice balance between exhilarating and safe" for Tube to Work Day 2018.
Tubers aren't the only ones in need of Boulder Creek streamflow information. Other outdoor recreators, such as fly fishermen, rely on accurate stream information to decide when and where to cast their lines. Jeremiah Osborne-Gowey is an avid fly fisherman and spent over 15 years as an aquatic and landscape ecologist throughout the West. He fishes Boulder Creek year-round, mostly for brown, rainbow and cutthroat trout.
Like Kagan, Osborne-Gowey is a user of the USGS National Water Information System. He also consults the NOAA River Forecast Center and the EPA Surf Your Watershed tool. Local knowledge is a valuable resource to him as well, since fly fishing shops often keep close tabs on nearby river conditions. Osborne-Gowey says that fishes have different preferences when it comes to streamflow and temperature (and a fun fact I learned from him: the plural version "fishes" indicates multiple species). "In general, fishes tend to be least active at the lowest and highest flows, which coincides with generally poor fishing conditions," says Osborne-Gowey. He says trout seem to be most active when the creek flow is experiencing change (either starting to decrease from the highest flows or increase from the lowest).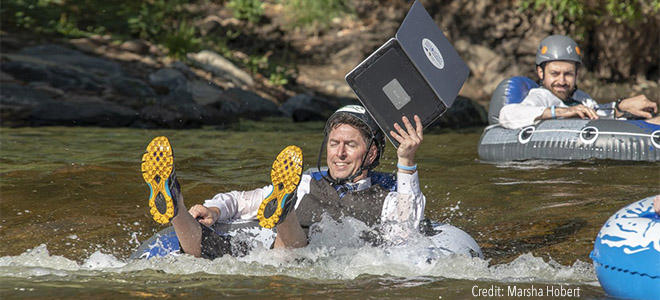 CSTPR Director, Max Boykoff, participating in the 2018 Tube to Work Day.
When flows are too low to fish in Boulder Canyon, Osborne-Gowey will try heading up to Nederland, or to parts of South Boulder Creek. This is because the creek's streamflow depends on the location where it's measured. Currently, streamflow in the Middle Boulder Creek near Nederland is at 72 cfs. The streamflow in the eastern part of Boulder Creek near Longmont is much lower, at about 18 cfs.
By checking streamflow data, recreators can have safer and more ideal experiences in Boulder Creek. Osborne-Gowey also recommends wearing water shoes with good grip when fishing, since "balance when walking streams is an ever present thing to be aware of, with loose boulders, branches and roots, slippery conditions, et cetera." For Tube to Work Day, the organizers require closed-toed shoes and helmets. They also strongly recommend that tubers wear personal flotation devices and wetsuits.These precautions help keep people safe in Boulder Creek during average conditions, such as those expected for Tube to Work Day. But history has shown that the water is not always so hospitable. During the September 2013 flood, streamflow in Boulder Creek leapt to over 5,000 cfs. In nearby Lyons, the St. Vrain Creek (which is said to reach its peak during the spring runoff at 1,200 cfs), had a jaw-dropping estimated streamflow of over 26,000 cfs. This streamflow data is used by the National Weather Service to validate flood models and improve flood forecasts. In light of past flood events, Boulder County has numerous on-going projects related to floodplain management.
When it comes to Colorado waterways, preparation is the key. Below are the most helpful resources for you to safely navigate some of our state's rivers and creeks this summer:
Environmental data
Helpful tips from past years
Thanks to Ursula Rick and Jeff Lukas for introducing me to the Rocky Mountains-High Plains Climate Dashboard.