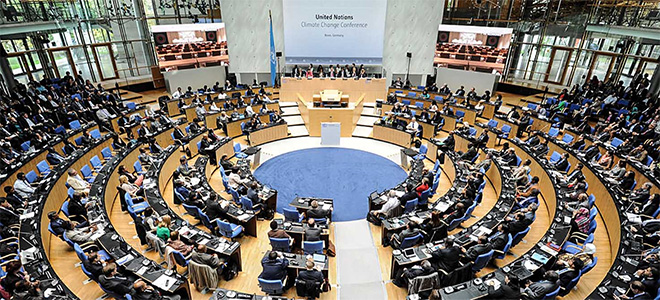 by Eric J. Lyman, Pacific Standard
June 13, 2018
It's been two and half years since representatives of nearly 200 countries gathered in Paris and, to great fanfare, produced the world's first global climate agreement. Here is a short and disheartening summary of what has happened in the world's international climate negotiation process since then:
A year after Paris, countries sent delegates to Marrakech, Morocco, to start work on a set of rules for implementing the aspirational goals agreed to in 2015. But the presidential election of climate skeptic Donald Trump in the United States—which happened during the summit—set negotiators back on their heels. Talks sputtered to a close, with most countries agreeing to "reaffirm" the goals from Paris, and vowing to stick together despite new doubts about the U.S.'s role.
The next big climate summit took place last November in Bonn, Germany, where negotiators grappled with the U.S.'s formal withdrawal from the 2015 Paris Agreement almost six months earlier. The centerpiece of the negotiations was an agreement to start work on a "dialogue" in 2018, to assess where the process stood more than two years after Paris.
The first major multilateral climate talks of 2018—11 days of inter-sessional meetings—concluded in Bonn in May. The talks broke down over financial issues, leaving most of the formal work on the Paris rulebook and the latest dialogue unaddressed. In the end, countries managed to agree to schedule a new round of talks in September in Bangkok, a last-ditch effort to make headway before the COP24 year-end summit in Poland.
Anyone want to place a bet on whether Bangkok or Poland will produce a major breakthrough? Me neither.
Even at their best, international, multilateral negotiations—whether focused on climate change, trade, poverty, pollution, or refugees—move infuriatingly, excruciatingly slow. To longtime observers, even the phrase "incremental progress" sounds ambitious. I've been covering the climate negotiation process since 2000, and there are articles I wrote back at the start where whole sections are still accurate, including many of the details.
"The worst thing about the multilateral negotiation process is that a small country like Djibouti has the same voice as a big country like the United States," Yvo de Boer told me in the high-profile run-up to the 2009 climate summit in Copenhagen, when he was executive secretary of the United Nations Framework Convention on Climate Change. "And the best thing about the multilateral negotiation process is that a small country like Djibouti has the same voice as a big country like the United States." Read more …