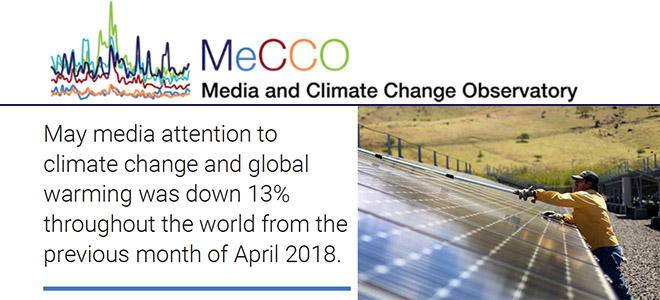 Media and Climate Change Observatory (MeCCO)
May 2018 Summary
Newspaper coverage in the Middle East and Oceania went down 35% and 23% respectively, while Asia dipped 10%, Europe diminished 6%, North America decreased 12% and African coverage was 18% lower than in April. Central/South America dropped 8%, while coverage in Africa held relatively steady.
At the country level in May 2018, newspaper coverage went down compared to April in Australia (-13%), New Zealand (-37%), India (-7%), the United Kingdom (UK) (-8%), Germany (-11%), and the United States (-17%). It held steady in Canada. Meanwhile, US television coverage decreased 14% from the previous month, while the six world radio sources monitored diminished 37% from coverage in the previous month.
Global newspaper coverage was about 10% lower than counts a year ago (May 2017), when a great deal of global media attention was focused on the Trump Administration's impending (June 1, 2017) decision on whether or not to withdraw from the Paris Climate Agreement. This primarily political story pervaded cultural, economic and societal stories in May 2017 as well. For example, journalist Alexandra Zavis from the Los Angeles Times covered President Trump's visit with Pope Francis. During that visit on May 23, 2017, Zavis wrote about how the Pope provided the President with a copy of his 2015 encyclical that called for global collective action to address climate change.
Figure 1 shows these ebbs and flows in media coverage at the global scale – organized into seven geographical regions around the world – from January 2004 through May 2018.
Moving to considerations of content of climate change or global warming coverage in May 2018, Figure 2 shows word frequency data in UK newspapers, juxtaposed with US television in May 2018. It is notable that the US-based media sources still continue to show signs of 'Trump Dump' (where media attention that would have focused on other climate-related events and issues instead was placed on Trump-related actions (leaving many other stories untold)). And as in previous months, content in media reporting outside the US context shows that this pattern of news reporting continues to be limited to the US. To illustrate, May 2018 news articles related to climate change or global warming in the US invoked 'Trump' 2935 times in 78 news segments (approximately 38 mentions per segment on average) on ABC, CBS, CNN, Fox News Network, MSNBC, and NBC. In contrast, in the UK press, Trump was mentioned in the Daily Mail & The Mail on Sunday, The Guardian & The Observer, The Sun, The Daily Telegraph & The Sunday Telegraph, the Daily Mirror & Sunday Mirror, The Scotsman & Scotland on Sunday, and The Times & The Sunday Times632 times in 510 May articles (approximately 1.2 mentions per article on average). We have cautioned previously, however, that these current trends can quickly change, contingent on Trump Administration decisions that could rapidly influence media attention on climate change or global warming in the US and around the world.
Many media accounts in May focused on primarily political – often tinged with economic – content associated with climate change and global warming. For example, a report called the 'Global Electric Vehicles Outlook' from the Paris-based International Energy Agency (IEA) at the end of May noted a record year for electric cars where "electric and plug-in hybrid cars on the world's roads exceeded 3 million in 2017, a 54% increase compared with 2016" while "China remained by far the largest electric car market in the world, accounting for half sold" in 2017. The report noted, "The uptake of electric vehicles is still largely driven by the policy environment. The ten leading countries in electric vehicle adoption all have a range of policies in place to promote the uptake of electric cars". NBC journalist Tom DiChristopher reported that the IEA "sees a pathway to 220 million electric vehicles by 2030, provided the world takes a more aggressive approach to fighting climate change and cutting emissions than currently planned".
As another example of political economic content, BBC journalist David Shukman reported on the landmark agreement made at the International Maritime Organization talks, to cut emissions of greenhouse gases in the global shipping industry. Shukman noted that "shipping generates roughly the same quantity of greenhouse gas as Germany and, if it were accounted for as a nation, would rank as the world's sixth biggest emitter. Like aviation, it had been excluded from climate negotiations because it is an international activity while both the Kyoto Protocol and the Paris Agreement involved national pledges to reduce greenhouse gases". Meanwhile in May, journalist Tom Embury-Dennis from The Independent in the UK reported that Costa Rica's new president – Carlos Alvarado – has promised to begin a process to ban fossil fuels in the country, making it the first decarbonized nation on planet Earth. He said, "Decarbonisation is the great task of our generation and Costa Rica must be one of the first countries in the world to accomplish it, if not the first". Read more …