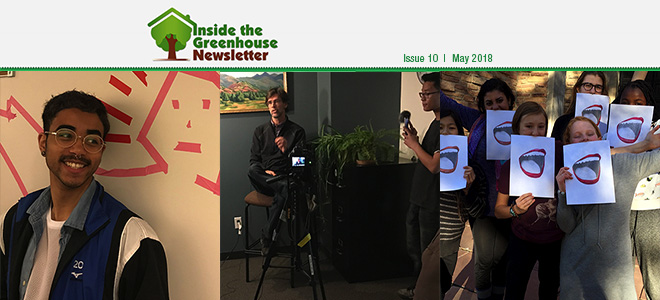 Issue 10 | May 2018
Subscribe to ITG Newsletters
Moving forward in 2018, we at Inside the Greenhouse continue our work to meet people where they are and 're-tell climate change stories' from a range of perspectives. Through this commitment we seek to help make sense of 21st century climate challenges. As a key part of our ongoing efforts, we remain steadfast in our commitment to help students build confidence and competence in order to deepen our understanding of how to effectively address issues associated with climate change.
Below you'll find some updates regarding our ongoing research, teaching and engagement over these first months of the year. Visit our website for further details as well.
We continue to carry out these projects through wonderful collaborations and partnerships linking campus and community as well as the local with the global. Your support is vital to our ongoing efforts. Please visit the Inside the Greenhouse Gift Fund to provide a tax-deductible gift. We are grateful for contributions in any amount.
Up with hope,
Beth Osnes, Rebecca Safran and Max Boykoff
(Inside the Greenhouse co-directors)
Course Spotlight
This Spring 2018 semester at CU Boulder, Beth Osnes taught the second course in our two course Inside the Greenhouse series. The interdisciplinary course is called 'Creative Climate Communications' and is cross-listed between the Environmental Studies program, the Department of Theatre and Dance, and the CU Boulder Atlas Institute. Patrick Chandler helped as our Teaching Assistant while Barbara McFerrin (alum from the 2014-2015 Inside the Greenhouse course series) worked as our More Than Scientists composition coordinator.
This year Beth cast the net wide to imagine creative engagement strategies for interactive climate communication. Students did a class activity creating an artistic installation in a hallway of ATLAS, taking turns outlining each other's bodies, and then adding on features to connect themselves with the natural world.
This participatory activity was designed to demonstrate how they conceptualize themselves as part of the natural environment for which they advocate. Read more…
Event Spotlight
We are in our second year of a partnership with Boulder-based Recycled Runway. Recycled Runway is a program that works with young designers to build their competence and confidence in design and sustainability. On April 10th, Recycled Runway held their 9th annual fashion showcase at the sold-out Boulder Theater.
In the partnership this year, ITG alumna Barbara MacFerrin worked to produce three videos: two promotional videos (see promo one & promo two) and one showcase piece that aired at the start of the event, to help open the show. Together, these videos have helped tell stories of how young Recycled Runway designers worked with recycled materials to create sustainable fashion sewn in with creative expression.
At the wildly successful April event at, the designers presented their original garments that were comprised of found and recycled materials. The event at the Boulder Theatre brought out the community in full force to celebrate this innovate approach towards sustainable living. Read more…