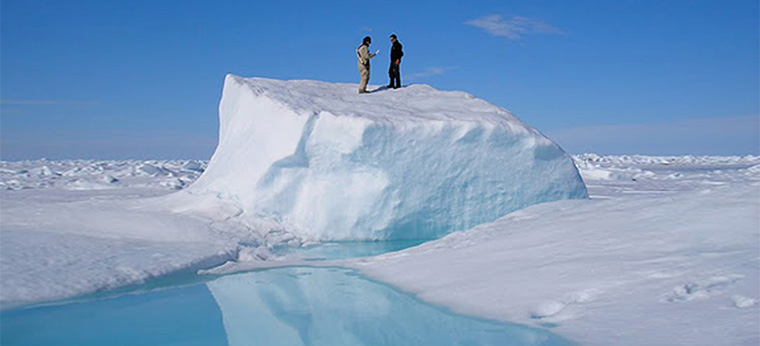 Matt Druckenmiller, right, and Hajo Eicken, a professor of Geophysics, on an ice floe near Barrow. Photo by Daniel Pringle.
by Alison Gilchrist, CSTPR Science Writing Intern
Matthew Druckenmiller, a current research affiliate with the Center for Science and Technology Policy Research (CSTPR), understands the value of community collaborations. Throughout his career, he's made it a priority to connect with communities in the areas he's worked in.
Originally from Pennsylvania, Druckenmiller moved to Alaska to get his PhD from the University of Alaska Fairbanks. A biophysicist interested in sea ice, he worked closely with the Alaskan North Slope borough—the largest county in the country. He was interested in combining sea ice research and marine biology, an interest that benefited from a close working relationship with native communities in the North Slope borough.
During his PhD, Druckenmiller designed coastal observatories around native communities. For example, Druckenmiller built up an observatory in the Alaskan city of Barrow designed to observe sea ice. The Barrow observatory helped him observe how arctic sea ice affects feeding success and body condition of bowhead whales.
"The Barrow sea ice observatory had a number of different components," said Druckenmiller. "One might fit your definition of an observatory: the tallest building in the village (about three or four stories) had a coastal radar on it. That would be the same kind of radar that a ship would have, and we used it to observe sea ice moving in and out along the coast."
In fact, Druckenmiller used several methods to study the changing arctic ice, including installing instruments directly into the ice as well as working with local hunters to keep diaries of ice conditions. He was even able to venture out onto the ice regularly by sled.
"In Barrow, during the Spring, they still maintain traditional Bowhead Whale hunts," explained Druckenmiller. "They glide onto the shore-fast ice, the ice that freezes close to shore. I had an instrument that I installed in a long sled, that I would pull or drag by snow-machine across these trails to survey the ice along the trails that the communities were using."
The instrument that Druckenmiller used collected trail data and measured the ice thickness distribution. The goal was to record areas of the ice that were very thin or very thick. This was useful data for Druckenmiller's research but was also incredibly useful for the community in Barrow. Druckenmiller and his group were able to make maps of this ice for the people who directly benefit from that information in the short-term. For whaling communities in Barrow, for example, it's important to know where ice is dangerously thin.
After Druckenmiller left Alaska, he spent two years in Boulder at the National Snow and Ice Data Center (NSIDC). He then worked for two years in Washington, D.C. as a AAAS Science Policy Fellow, with the United States Agency for International Development. Finally, he moved back to Boulder to take a research scientist position at NSIDC.
Currently, Druckenmiller is a coordinator of the Sea Ice Action Network within the Study of Environmental Arctic Change (SEARCH). This study is a collaboration between Arctic researchers, funding agencies, and stakeholders and aims to study the implications of a changing arctic.
"I'm working with a team of researchers focusing on arctic sea ice," said Druckenmiller. "A lot of what I do is not basic research, but more synthesizing existing research into sources that are accessible to other researchers and accessible to the public."
Druckenmiller explained that SEARCH will be a valuable tool for science communicators to use when studying and writing about climate change.
"We're trying to position this organization to be an easy organization for journalists to go to when writing stories."
As well as coordinating this initiative to make climate science more accessible, Druckenmiller continues to collaborate with the scientists working in Barrow. Throughout his career, he has focused on the types of research partnerships that scientists make with communities and formed long-lasting and effective collaborations. At the National Snow and Ice Data Center and in collaboration with CSTPR, he is well poised to continue these important initiatives.